Reebok comes to West Hartford
Fleet Feet West Hartford is thrilled to be welcoming Reebok to our lineup of running shoes. 
Meet the Floatride:
Introducing Floatride, Reebok's first running shoe featuring Floatride Foam technology. Its unique consistent cell structure delivers soft, responsive cushioning without compromising weight, so you can float through your run.


Run farther with innovative cushioning

From your first step to the last, Floatride long-distance running shoes feel light and responsive, letting you float through every stride. The one-piece Ultraknit upper is engineered in zones to offer support and breathable flexibility. Seamless construction and a 3D heel cradle limit irritation while locking in a comfortable fit.
New Floatride pressure-set foam has a consistent cell structure that delivers the optimal mix of lightweight cushion and a responsive feel. Plus, the supportive foam rim centers and balances your foot throughout the gait cycle for a stabilized landing and launch.
Meet the Harmony Road: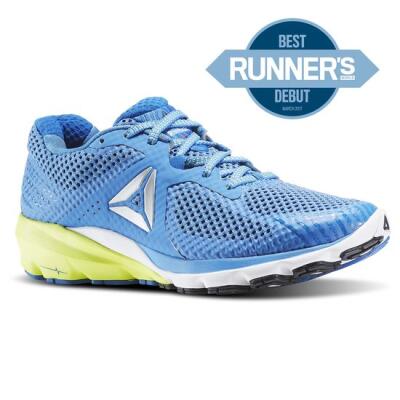 Cushioned and Performance-Driven for Long Distance Runs
Introducing Reebok's Harmony Road long distance running shoes. With a performance-driven design and long-lasting cushioning, this sneaker offers both comfort and power. Mile after mile, the TriZone midsole delivers shock absorption in the heel as well as responsive propulsion in the forefoot, allowing for a fast transition and a smooth, balanced ride. Mesh in the upper adds breathability, while the seamless construction keeps irritation away.
Named the 2017 Runner's World Best Debut for its performance-driven design and innovative KooshRide core technology. This sneaker provides cushioning, comfort and power that lasts mile after mile, even for your longest run. Runner's World is a registered trademark of Rodale, Inc. All rights reserved.
Ready to try running in these awesome new shoes? Reebok will be at our Fun Run on Wednesday, July 19 at 6:30pm with the Floatride and Harmony ready for you to take for a run!