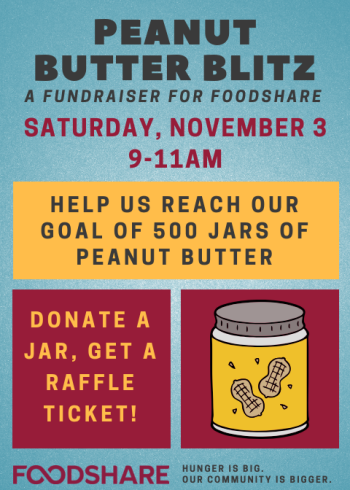 Help us reach our goal of 500 jars of peanut butter to donate to Foodshare! (we are currently at 342 jars).
Bring a jar (or two!) and we'll give you a ticket for a chance to win one of 30 awesome prizes (you put your ticket in the drawing for the prize you want to win): free sneakers, sports memorabilia, craft beer packages and tickets to CATS!, Yard Goats, Hartford Symphony, Travelers Championship and more. 

Can't make it Saturday? No problem, just drop your jar off at the store any time between now and Friday, November 9.

And don't forget to sign up to join the Fleet Feet team at the Burpee Challenge (Friday, Nov 9 from 6-8pm). Fitness, food, beer and a fun pint glass to commemorate the occasion! Get your tickets HERE!