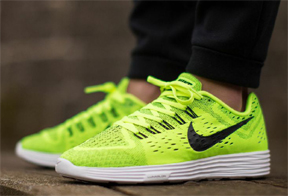 Continuing on our summer-racing theme, I introduce to you, the Nike LunarTempo. This is a brand new shoe this year to bring light weight, breath-ability, and cushion to your summer season! Easily one of the most fun shoes for lightweight, fast miles! Weighing in at a meager 7.4 ounces, and a Lunarlon midsole, this shoe has one of the highest cushion-to-weight ratios that you will find on the market today. That means that it could be the perfect weight for a racing shoe, or even just your workout, interval, or mid-distance days. 
Bringing the package together with Nike's newest engineered mesh upper for seamless ventilation, and Nike's famous FlyWire midfoot wrap keeping you in place, you feel like you are wearing a sock, but it doesn't squeeze your foot. There isn't much more you could ask for.
Thanks to all of these new-aged features, the LunarTempo is ideal for anything from race day, to everyday training. The perfect complement to your running shoe collection!