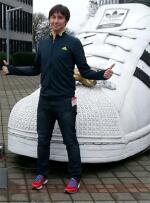 It is shoe season, so obviously, I am ecstatic! The first update is on the favorite for many of you, the Brooks Ghost 8! So many of you already wear the Ghost, and the newest edition does not disappoint.
Brooks has further perfected the balance of cushion, support, and weight. Introducing the very first shoe from Brooks using an engineered mesh, you are sure to get the support around the foot that you need, with better than ever breathability. Because of this new mesh, they were able to add 3D-print fit, which is a technology using a 3D printer to put overlays on the upper to create a seamless upper, and create the most customized fit possible! It is still the same fit, shape, and flexibility, so current users don't have to worry about the old "What did they do to it" stigma, so that's good news. 
Still, progress has to be made, so Brooks brought in a full length crash pad underneath the already luxurious Caterpillar heel, creating the most cushioned impact, and smoothest transition this shoe has ever seen! 
Being the update season, I am happy to introduce the Brooks Ghost 8 as one of the fantastic updates to bring you this month, providing more support, more cushion, and less weight than ever!