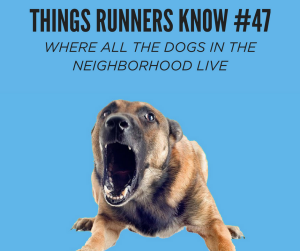 August is typically known as the Dog Days of Summer.  The typically hot, humid days get their name because the second brightest star, Sirius (the "Dog Star"), rises and sets with the sun during this time.  In our family, the Dog Days of Summer reminds us of something different.
 
It happened in the summer of 1981.  We were living in Cincinnati, and my dad was training for a fall marathon.  His favorite long run course took him into a beautiful town called Indian Hill.  As its name suggests, Indian Hill was very hilly.  It was also nicely shaded and didn't have much auto traffic which made it great for running. The downside to the run was one big, shaggy dog that would always bark and chase after my dad. 
Dad would have to sprint for about a quarter of a mile before the dog tired of the chase and turned around for home (at the time, dad was afraid of dogs).  
 
One early Sunday morning about a mile from the dog's house, the dog appeared out of a wooded area and wiggled his tail with delight.  We think he was probably lost and recognized my dad and figured Dad would lead him back home.  But Dad was only 3 miles into his 20-mile run so he kept on running - dog in tow.    
 
At first the dog chased every bird and squirrel it saw, but after two miles, he fell into silent rhythm with my dad.  Five miles later, they reached a HUGE, twisty hill, aptly named Spooky Hollow Hill.  When the dog saw it, he looked at my dad like "Are you kidding?  I'm not doing this" and sat down.  Dad said "suit yourself" and headed up the hill.  About a half mile up, Dad heard panting.  He turned around to see the dog who must have realized that this was the only way he was getting home.    
 
For seven more miles they ran side-by-side with Dad taking a few detours so the dog could jump into ditches full of water to cool off and drink.  Finally, the dog saw its home and sprinted to the front door.  As Dad ran by, the dog nodded his head in a gesture of thanks before curling up to rest on the porch.  
 
The next Sunday, as Dad approached the big dog's house, he readied himself for the chase.  As usual, the dog leaped off the porch and started running full-speed at my dad, barking like crazy.  As the dog got closer, he must have recognized my dad for he stopped cold in his tracks and turned back for the porch without another bark.  He wasn't about to follow this crazy runner again!
Live Fit!
Steph