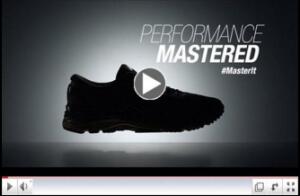 Three years ago, Asics set out to create the world's most advanced running shoe – a shoe that masters performance on the run. They gave their team access to the best equipment and materials with no limitations on time or money to create a shoe they nicknamed BOB for "Best of the Best".
Working under a cloak of secrecy at the ASICS Institute of Sport Science in Kobe, Japan, nearly 100 of the best shoe scientists and engineers worked together to rise above current shoe design limitations by developing brand new foams and materials that simultaneously improve the shoe's stability, cushioning, weight and fit. The end product, named MetaRun, resulted in four patents, incorporated five new technologies and shattered the stats of Asics' previous best shoe (the Kayano 21).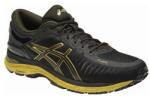 The first technology is the development of a new midsole material called "FlyteFoam" which is 55% lighter than the traditional EVA featured in running shoes.  The secret ingredient in the foam is organic fibers that contain 70% Kevlar for enhanced durability, resiliency and rigidity.
The second technology is a two-piece AdaptTruss stability system that utilizes carbon fiber to individualize the stability response for each runner. Combined with a new Sloped DUOMAX mid-sole, the MetaRun provides smoother transition from heel strike to toe-off and reduces the pressure under the arch, especially when a runner's stride changes due to fatigue during a long run. Despite having 30% less foam, the MetaRun has an 18% increase in rearfoot cushioning, 28% more rearfoot stability and 15% more midfoot stability compared to the Kayano 21.

Rounding out MetaRun's innovative technology is a new high-tech gel called X-GEL, a seamless, flexible Jacquard mesh upper and an external heel counter called MetaClutch that caps Asics beloved memory foam lined heel for an incredible Cinderella-worthy fit and feel.
Only 4,000 pairs of MetaRun have been produced for the entire world and Asics hand-selected just 50 US locations to host their shoe. I am excited to announce that Fleet Feet Hartford is one of the chosen few  - and the only store in Connecticut!
Our shoes will be arriving on the morning of Friday, November 28 and will be available for just 30 days before we have to send them back to Japan. The price for this ultra-performance, uber-limited edition shoe is $250, making it the perfect gift for the discerning runner who appreciates the best in everything.