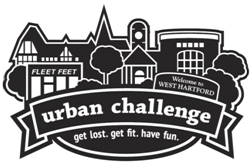 We are pleased to announce that registration is now open for this year's Urban Challenge – a combination running and trivia scavenger hunt sponsored by Brooks and West Hartford Center Businesses on Friday, September 19 at 6:00pm!
The event is similar to the television show The Amazing Race, with teams of two receiving clues, completing challenges at different locations throughout the Center & Blue Back Square, running from location to location and, in the end, racing to be the first team to the finish line. Knowledge of the area will give you an advantage, but teams can use their phones, Internet and people on the street to help them solve the clues.
Fleet Feet has teamed up with various businesses in the area whose identities are secret until you figure them out from the clues. While we can't reveal who they are, we can tell you that there are some fun (and tough!) challenges in store for you.
The event fee is $30 per person ($60 per two-person team) and includes a high-quality tech tee, schwag bag, and awesome after party. There will be prizes for the Top 3 teams, as well other fun categories such as team name, costume, and most-spirited.
You can register online via this link or in-store (there is an additional $5 fee for in-store registration). If you already have a teammate chosen, please register as "Team." If you don't have a partner, please register as "Individual" and we will match you with another solo participant.
Event is limited to 150 two-person teams so register early! This event WILL sell out. Plus, everyone who registers before August 31st is guaranteed to get the shirt size they requested (late registrants will get a shirt, but sizes will be available on a first-come, first-serve basis).