Karen 

Randazzo ~ WIPster & Fleet Feet Marathon Runner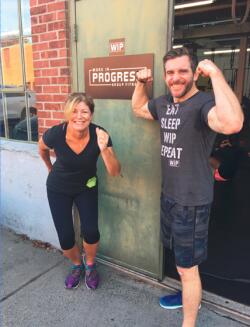 "Running is my passion but I had hit a wall of sorts, both physically and mentally.  I just wasn't seeing the benefit from the miles I was logging. I needed something different and challenging at the same time. I joined Work In Progress (WIP) in the winter to supplement my running. Cross training is always beneficial and being in a warm gym with other like minded people was preferable to running the through the cold winter streets by myself.
My first week at WIP was harder than I expected. While I could run easily for an hour I could barely hold a plank for 5 seconds. Lacking upper body and core strength I struggled at every turn to master mountain climbers, wall and ball slams, ropes, and my personal nemesis, the burpee.  At the end of my first week every muscle in my body was complaining, but I felt strong and surprisingly proud of myself.
The more classes I attended, the stronger I became. Running was suddenly fun again as I saw improvement in both time and endurance. I was also elated when my clothes started to fit better as the pounds and inches dropped away. Fear is a powerful deterrent to progress. Until I joined WIP I didn't realize how my fears were holding me back from achieving my goals. The day I mastered a box jump (they still terrify me) was the day I knew I was both physically and mentally ready to train for Hartford. I drove straight from WIP to Fleet Feet to register for their training program.
On October 8, I completed The Hartford Marathon after training with Fleet Feet.  On race day I felt confident and strong and even though I was nursing a sore ankle I managed to take 20 minutes off my previous marathon time. One week post race and I'm already looking forward to training for my next one. I am still a "Work In Progress" and thanks to Fleet Feet and WIP, I am achieving my goals."