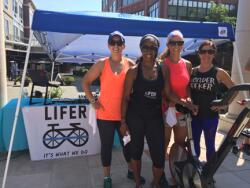 "I started running in the summer of 2009 after coming home from college for summer break and realizing I needed to take better care of myself.  I have been through of my fair share of trainers, gyms and fad workouts since running but nothing has changed my life more than LIFER Fitness Studio.  In the summer of 2015 I found out that Debra Fountain was opening her own indoor cycling studio.  After falling in love with her cycle classes at another local gym, I started going to LIFER!
In October of 2015 I had a PR at the Eversource Hartford Half-Marathon, which would not have been possible if it weren't for the amazing cross training workouts at LIFER Fitness Studio.  The cycle classes are very fun and challenging.  Cycle has improved my strength and endurance as a runner.  LIFER also offers additional fitness classes that I've completely fallen in love with!  LIFER barre has helped me tone my body and improve my flexibility.  I recently started taking POUND and cardio kickboxing classes which have been great cardio options to incorporate into my cross-training. 
Since joining LIFER, and becoming a 'monthly-unlimited' class member,  I have dropped over 10 pounds and I am stronger than ever before.  I am also more 'dialed in' and consistent as a runner. I keep track of all my race times and over the last year I have shaved minutes off my running times thanks to the amazing workouts I am able to enjoy at LIFER Fitness Studio! If you are looking to get stronger, faster and feel better, LIFER Fitness Studio can make that wish a reality!"