Get Ready to Run!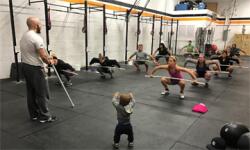 I know what you are thinking...CrossFit is for big guys who want to lift heavy and bulk up, not runner who want to be light and quick. On the contrary, our mission at CrossFit Hartford is to elevate your overall fitness regardless of your gender, age or athletic ability (or mobility!). We coach you to be well rounded and develop skills in the 10 domains of fitness: endurance, stamina, strength, flexibility, power, speed, coordination, agility, balance, and accuracy.  Train with us this winter, and you will be a better runner this spring.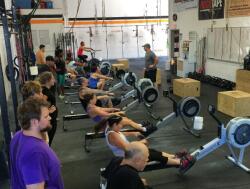 Our program delivers a fitness that is, by design, broad, general, and inclusive. Our specialty is no specializing. Each day is different. You will not get bored and never plateau with progress. We don't have fancy, hi-tech machines. The only machine we use is you. If you put in the effort, you will be rewarded with strength, confidence, empowerment and a sense of accomplishment that rivals the elusive Runner's High.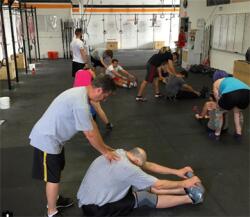 The quality of training available at CrossFit Hartford is unrivaled. We are the first choice of people serious about learning CrossFit. We coach you every time you walk into our gym because even those experienced CrossFitters can still improve their form, movements and efficiency. We are here to push you to be your best. We are all about technique, safety, and high-level programming in a friendly, warm, community-driven environment. Our programming is designed to help you continually improve, and the results of our athletes speak for themselves. By the way we call all our members 'athletes'.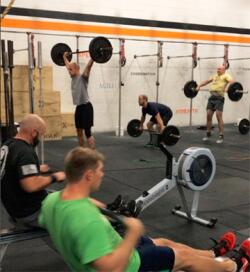 CrossFit prepares your body to adapt to the unknown and the unknowable. If you embrace the CrossFit method and make a serious effort to stick to the program, you WILL achieve results. You will gain confidence in your physical abilities. This confidence will carry over to all other challenges that life throws at you...and you will become a better runner!
Click here to read how long-time Fleet Feet runner Betsy Udal achieved a 9min PR during the Providence Half Marathon this spring after training with CrossFit Hartford during the winter.
SPECIAL OFFER for Fleet Feet Peeps: 15% off a 3-month membership.
For more information, call 860-216-4785 or email Mark at crossfithartford@yahoo.com.