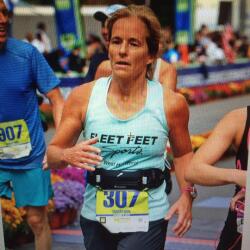 The combination of Fleet Feet Training Program + Anytime Fitness West Hartford = PR's and no injuries!  
I have completed multiple Fleet Feet Half and Full Marathon training programs since 2010 and with each I learned so much and improved my race times.  It was not until I joined Anytime Fitness and committed to total body fitness that I saw both my times and frequency of injuries really improve.
Small group training, group classes, yoga, nutrition, tune up and stretch classes have all contributed to me being in the best running shape of my life!  I have PR'd at every race distance (5K, half marathon and marathon) since joining ATF in 2014.  The trainers and instructors, who lead the workouts and classes are very knowledgeable and supportive, and the camaraderie amongst and between the trainers and members is very special.  Reminds me of the FF training programs!  
I ran my second Hartford Marathon on October 8th 2016 with a goal of qualifying for the Boston Marathon.  I was able to beat that goal by more than 11 minutes and be back out enjoying running 3 days later.  Thank you Anytime Fitness for helping me achieve total body fitness!