Run to a Better Future Scholarship Winner: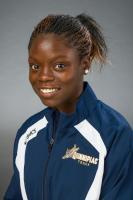 Shameal Samuels
When you shop local, more of the money you spend stays in the community.  At Fleet Feet Sports, shopping local also means supporting a unique scholarship designed to help pay it forward.  The "Run to a Better Future" is a four-year scholarship that provides $10,000/year towards college costs for a graduating senior from an inner-city Hartford school.
Our inaugural recipient is Shameal Samuels. Shameal was selected for her strong academics, passion for running, her work to create a middle school track program at her school to curb childhood obesity and her sincere desire to go to college and create a better future for herself and her family. Shameal is the first in her family to attend college - a true feat considering that her mom never completed high school.
In her application essay, Shameal wrote, "Growing up in an urban area where there are always crimes and someone going to jail, influenced me to stay out of trouble and work towards a goal. There are kids they I grew up with who are in jail or have been convicted of a felony. I use their mistakes as a way to encourage myself and motivate me to work as hard as I can to make my dreams come true.
"I try my best in school and admit that there are times when I wanted to give up, but I did not. I have wanted to become a forensic scientist since I was a small child. I tell myself every day that I will do everything in my power to become a forensic scientist."
With the help of this award and a partial athletic scholarship, Shameal is attending Quinnipiac University where she is on the track team and is studying criminal justice/forensic science.  Shameal is excelling both in school and on the track.  She has a 3.2 GPA, has already broken 3 school records (400m, 200m and 4x400m relay) and was named Quinnipiac's Athlete of Month.  Even more inspiring is how this once shy, young girl is gaining confidence and becoming a team leader. 
This scholarship couldn't have been made possible if you didn't choose to shop at Fleet Feet Sports - especially when the big box stores and online giants may save you a few dollars and a gallon of gas. We like to think that we make up for it with a better, more personalized (and fun!) shopping experience and by investing our various resources back into our community. Together we are making a difference, one sole/ soul at a time!