Chasing Mavericks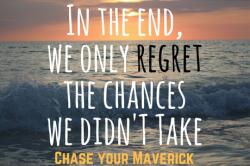 I am a sucker for movies about the underdog who, against all odds, conquers the challenge of a lifetime and becomes the champion or hero.  I love rooting for the little guy.  Their success is proof that regular folks like you and me have a shot at achieving our dreams too. 
Natural born talent is always advantageous, but with the proper mindset, training, education and support, we can do anything.  This is especially true as it relates to running.  You need not be a gazelle to complete a 5k, a half marathon or even an ultra.  You just need a lot of heart, patience, a plan and a coach or companion  - like Frosty.
One of my favorite underdog movies is Chasing Mavericks which tells the true story of surfing legend Jay Moriarty and his journey to surf gigantic, dangerous waves called Mavericks.  Few professional surfers have ever conquered a Maverick – let alone a 15 year old kid from the wrong side of the tracks.  To achieve his dream, Jay forms a bond with a legendary local surfer named Frosty who is a bit of a recluse. 
Frosty trains Jay in unconventional manners that focuses not just on the physical, but the mental and spiritual too. A critical part of this training is conquering the fear inside – the same major roadblock many of us have on our own journeys. Sometimes that fear is personal. Other times it's tainted by other people's fears. Either way, if we can't get past that fear, our chances of success decrease dramatically.
Frosty gives Jay some excellent advice: "What are you afraid of? You've got a chance to change everything. Take it. This is about more than just surfing.  This is about choices you make in life.  This is about finding the one thing that sets you free. You need to believe in yourself or none of this matters." 
Believing in yourself isn't easy. Nor will the path to success be smooth and comfortable. Life rarely presents a perfect time or optimal conditions; more likely life will throw you curve balls and knock you down.
But as Frosty said, "If you're not falling down, you're not learning."  Little by little those baby steps will become huge strides giving you infusions of courage to keep moving forward until your last baby step brings you across the finish line.
Resolve to not let fear get in the way of your dreams.  Use these last few weeks of 2016 to craft your roadmap and gather the resources you will need for your journey.  Use your Fleet Feet Sports family as a resource and quirky companion.  Believe in yourself and set yourself free.  Your Maverick awaits!
Steph
P.S. Looking for a coach to mentor you? Join one of our training programs. From walk to run, 5k to 26.2, we have programs just for you!