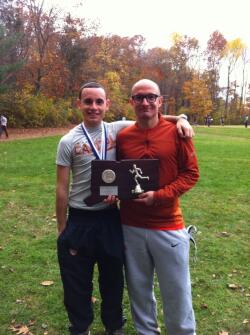 Prior to 2005, Hartford cross-country runners had not faired well in competitions sponsored by the Connecticut Interscholastic Athletic Conference during the new millennium.
With over 3,000 athletes competing in CIAC State Open Championship Cross-Country meets between 2000 and 2005, not one was a representative of the yearly 5,000-strong Hartford high school student population. 
Under the guidance of cross country and track coach Scott Wojnarowicz, the Capital Preparatory Magnet School (CPMS) cross-country teams bucked this trend and became the benchmark of endurance running in the City.  In 2013, the CPMS boys' team captured the City's first-ever CIAC State Class Championship.  Three (3) of the team members were honored as 'All-State' and Dhahran Velasquez became the first City runner in over 20 years to earn 'All-New England' honors.   Due in part to these exemplary performances this team was named the fall 2013 "Hartford Courant Team of The Season".
In just ten years, the CPMS cross-country teams won a State Class Championship, 8 Constitution State Conference Championships, 1 'All-New England' performance, 13 'All-State' performances and over 40 'All-Conference' performances. 
In 2015, Wojnarowicz brought his coaching skills to the newly established Capital Preparatory Harbor in Bridgeport, Connecticut.  Wojnarowicz, replicated his past successes of motivating urban youth to participate in the sport of cross country running within Bridgeport, coaching a first year runner to Bridgeport's fastest 5000m, 1600m and 3200m mile times in over a decade.