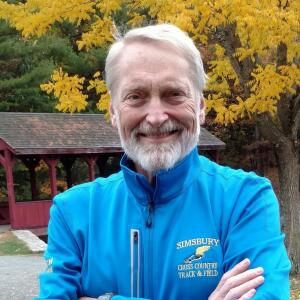 For over thirty years Coach Cohen has coached teams and individuals from high-school age through adults to race distances ranging from the 800m to ultra-marathons. Presently, his passion is sharing his extensive knowledge of exercise physiology, sports psychology and coaching science with his runners and others. His coaching philosophy is founded on the principle of effort-based training married to the artful application of exercise science.
Coach Cohen taught a wide variety of biological sciences at Simsbury High School for 35 years before retiring from teaching in 2006. While teaching, he personally began a running program which culminated in marathoning and stimulated him to develop a deep interest in exercise physiology and sports coaching. He has been a very successful coach in cross country (twice the CT Coaches Association named him Outstanding Coach of the Year) and all aspects of track and field although his first love continues to be distance running. 
Coach Cohen is a professionally certified coach by both USA Track and Field (Level I) and the Road Runners Clubs of America. Additionally, in 2017 he was one of eight finalists for National Coach of the Year in Cross Country by the National High School Athletic Coaches Association. He is proud of the numerous former runners that have gone on to become successful collegiate and post-collegiate runners.  In fact, a number of his former athletes have followed in his footsteps and have become successful coaches as well.
In addition to coaching, Coach Cohen is the Senior Director of Nike's Green Mountain Running Camp for many years.
My Coaching Philosophy:
My coaching philosophy is to blend the application of physiological principles found in exercise science with reliable training principles. I do not become a proponent of the newest "shiny object" of training or become a proponent the latest fad marathon approach. However, I pride myself in maintaining current knowledge of the field of exercise physiology and training theory and as a result, my coaching today is not the same as it was 25 years ago.
That being said, this Fleet Feet Distance Project is not designed for the professional athlete who can devote her/himself to an all-day cycle of training and sleep. Rather, it was developed for the realistic life of an adult who may have a job, family life and daily responsibilities.
These training plans are divided into three different plans intended for different levels of runners. All plans have a three-week introductory phase, which eases you into the start of the actual training marathon plan. That means that the actual plan is a 12-week program. It presupposes that you have been running consistently prior to embarking on this marathon journey (excuse the terrible pun). Additionally, I will provide you with suggested core and body-weight strength work.
An elite marathoner once told me, "Anyone can run a marathon, if they can survive the training". What a tragic comment on distance training! I want you to enjoy the journey of achieving this milestone. My intention is to strike a balance between too little training that leaves you struggling race day and too much training that reinforces the sentiment above.
My overriding goal is for you to arrive at marathon day, injury-free, as well as physically and mentally healthy in a positive frame of mind set to realize your reasonable goal. Together, let's make magic happen!