The Big Run
We are excited to run the first ever USATF certified 10th Street Bridge run in Greenville NC. This page has a lot of information about the race and about race day, so please be sure to read this page in it's entirety or feel free to reach out to us with any additional questions.  We appreciate you being involved with this great event and hope you enjoy your time with us!
When: June 5th, 6pm
Where: 818 Clark Street at Crossfit Greenville
The Course: Out and back over the NEW 10th st. connector bridge
Why: All proceeds will benefit Ainsley's Angels here in Greenville.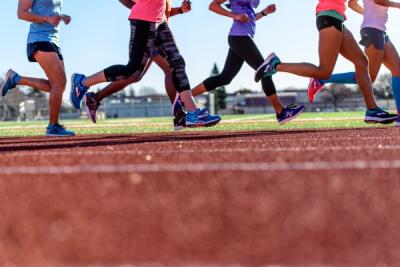 Packet Pickup
- 2 options - 
Packet pickup will happen in store the week before the event, and at the race site on the day of the event. 
Option 1: In store
When: May 30th - June 4th during store hours
Where: Fleet Feet Greenville - 709 Greenville Blvd. suite 104  
Option 2: Race Day
When: June 5th at 5:00pm
Where: 818 Clark St. at Crossfit Greenville
We recommend pick up your packet early, at the in-store option, if possible as the race day packet pickup location will share a table with race day registration. 
Runners are responsible for holding onto their timing chip and bib number for race day.
You can have another person pick up your packet so long as you email us to let us know who will be picking up your packet. Please send these email requests to coach@fleetfeetgreenvillenc.com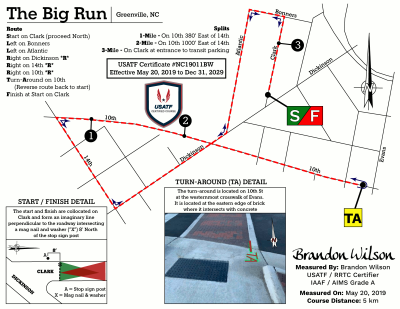 Race Day Parking 
The umbrella market is also happening on Wednesday, so we recommend arriving early as parking will be limited in both the Dickinson and Uptown areas.  We recommend carpooling, Ubering, or parking in Uptown and getting your warmup in by jogging to the start.  
Uptown Area Parking:
Five Points Plaza, 4th street parking deck, Evans St. street parking, and more
Click Here to see Uptown Greenville's Parking map
Dickinson Avenue Parking:
Street parking is available on Dickinson Ave., Pitt St., Atlantic Ave., and the new paved parking lot on Dickinson across from Clark St. 
Clark street will be closed from Dickinson Ave. to Bonners Lane. for the run, please do not park on Clark street.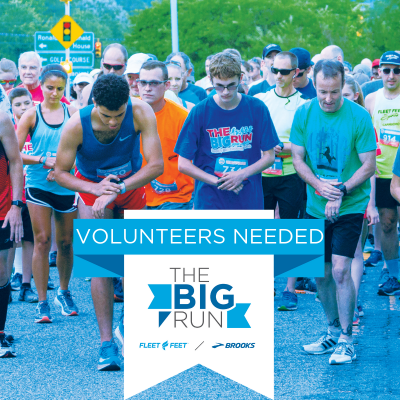 Volunteers
We are still in need of some faithful volunteers.  If you or anyone in your family or friend groups would like to volunteer, please sign up or share the below link with them. The volunteer opportunities have been broken up into two categories as shown below.  All of the opportunities have time slots and spaces available so we don't have too many volunteers doing the same task.
Thank you for those who have chosen and will choose to volunteer, we appreciate you!  All volunteers are welcome to enjoy everyone in the Clean Eatz Fun Zone, including food and drink!
Volunteer sign up link: https://runsignup.com/Race/Volunteer/NC/Greenville/TheBigRunGreenvilleNC
Things you can volunteer for and run the race:
In-store Packet Pickup
Event Packet Pickup
Event Registration
Course Markers/Set up Crew
Course Destruction Crew
Things you can't volunteer for if you plan to run the race:
Run Course Markers/Cheerers
Medal and Water Handers
Race Coordinator's Helper
Lead Rider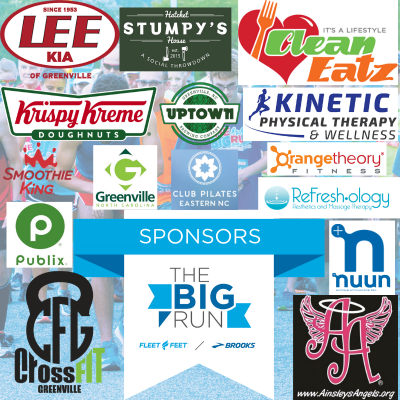 Clean Eatz Fun Zone at Crossfit Greenville
We are happy to announce our sponsors for The Big Run and highlight our title sponsors.  
TITLE SPONSORS:
Brooks Running
Nuun Hydration
Clean Eatz
Crossfit Greenville
Lee Kia of Greenville 
The Clean Eatz Fun Zone will be a family friendly environment for everyone. 
The Greenville Fire Department will have a firetruck out at the Fun Zone during sign up for the 5K to show off the truck and hand out kids' fire helmets.
Runners, volunteers, and spectators will be able to enjoy food from Clean Eatz, as well as doughnuts from Krispy Kreme, and bananas from Publix.
Along with the food, Billy Beer and Uptown Brewing have teamed up to be our official beer sponsor for the race, providing drinks for athletes 21+ after the event.  
Club Pilates, Smoothie King, Stumpys, Kinetic Physical Therapy, and Refreshology Day Spa will also be in the Fun Zone handing out information and offering after run stretching and injury prevention!
Orangetheroy Fitness will be bringing and providing the energy for our water stop located just before you start your ascent up the 10th street bridge. 
Lee Kia of Greenville will have a vehicle, blasting music at the turnaround spot to get you excited and ready for the run back through the course.
Race photos are provided by Running On Memories.
Lastly, we need to remind everyone that all of the proceeds and donations will be going to Ainsley's Angels of Eastern North Carolina.