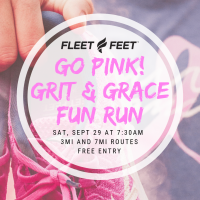 We are ending September and starting October with a Fun Run for a cause.  The Go Pink! Grit & Grace Fun Run is a run planned to bring awareness and assistance to Breast Cancer Research.  Wear your PINK and come join us for some fun running fun for all ages. 
We have two distance options that are welcoming for all endurance levels. 
Our 3mi and 7mi routes are planned to fill all of the runners with excitement and motivation to run.
A percentage of store sales will be donated locally to Cancer Services of Eastern North Carolina through the Run for Ribbons Race, and sales from BALEGA Grit & Grace Socks and MIZUNO Project Zero BCRF Wave Knit® products will be donated to the Breast Cancer Prevention Partners and the Breast Cancer Relief Fund respectively.
 The fun runs will have staggered start times beginning at 7:30 for the 7mi and 8:00 for the 3mi
Be sure to arrive early to get a good parking spot and to grab anything you may need from our store!
Sign up for the race below!
ROUTE MAPS:
3 mile route map: Garmin 3mi Map Route
 *  7 mile route map: Garmin 7mi Map Route
 *  7 mile ALTERNATIVE ROUTE map: Garmin 7mi ALT ROUTE Map 
 *The 7 mile route we plan to use is currently flooded.  If the water doesn't recede by the time 
 we have our run, we will use the 7mi alternative route 
All routes can be view through Garmin Connect, which is free to use even if you don't have a Garmin device. 
You may be able to send the maps to your Garmin device so you don't need a course map - ASK an associate to help!
Every month Fleet Feet Greenville, NC hosts a fun social run for all which starts and ends at our store. It is free to sign up and free to run!