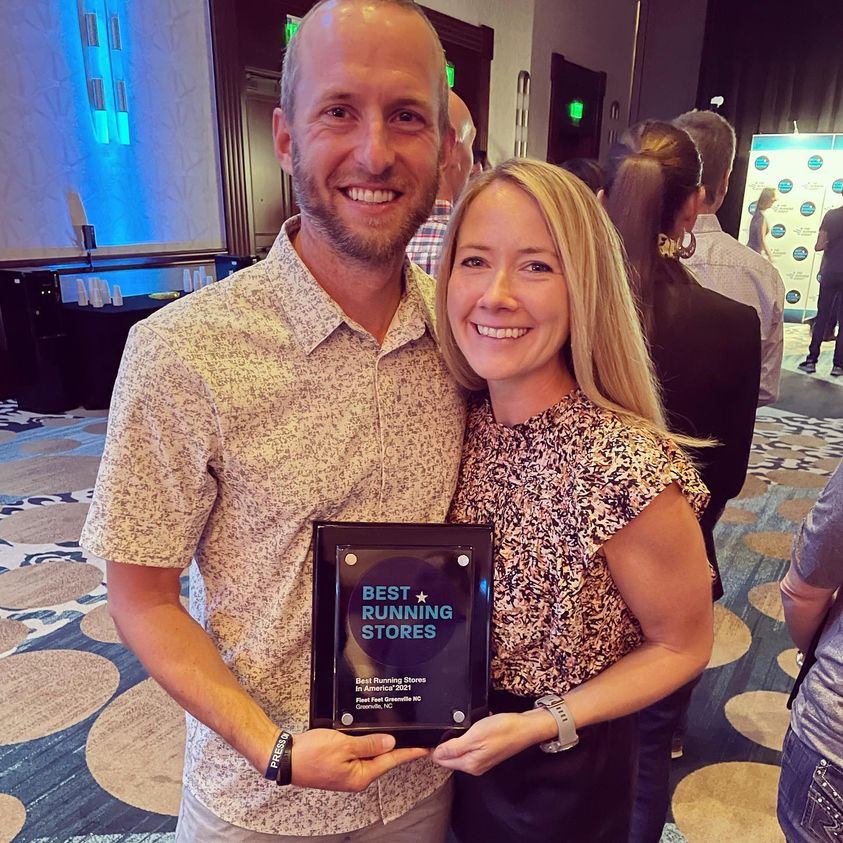 TRE's Best 50 Running Stores in America 2021
Every year, The Running Event recognizes the best in the business. Best 50 Running Stores celebrates the stores leading by example in the run specialty industry—the retailers who continually show their commitment to their customers and community. Leaders among their peers, these stores are always striving to create a stronger industry.
Fleet Feet Greenville NC was honored to accept this award at The Running Event in Austin, Texas, on December 2, 2021.
Please consider voting for us for 2022 by clicking HERE
Check out this Store Profile from Running Insight magazine:
Key Personnel: Kendra and Chris Loignon, Owners; Rachel Craft, GM; Andrew Ciaccia, Footwear Buyer; Nick Ciaccia, Retail Experience Manager; Justin Safin, Inventory Controller; Paige Murrow, Apparel Buyer and Merchandiser
History: The store opened in October 2017.
In Their Words: "Our mission and vision are at the core of our culture. And the saying goes, 'Culture eats strategy for breakfast.' Our vision at Fleet Feet Greenville is to S.E.R.V.E. This means be humble servants, educate our customers, run together as a community, value the act of giving and empower our community.
"We live out each part of our vision daily, but we really enjoy the act of giving. Each month we have a local charity partner that we educate our community on through group runs and social channels. We will also donate a portion of our monthly sales to those community partners each month. In the single act of giving, we get to live out the five points of our vision. There is no better feeling than giving to those what has been given to you."
What the Award Means to Them: "Blessed, humbled and honored to be among the best in the industry. We do not do what we do for the accolades or recognition. If anything, we tend to shy away from it at times. The culture in our store is customer and community first. Each day the team comes to work with warm hearts ready to make a difference in a person's day. We are just thankful we get to use running as the generator for all things good in our community. We will continue to stick to our mission and vision to make an impact on our community for the good. At four-years old, we feel we are only at mile four of a marathon and the best we have to offer is still to come."
Locations
Fleet Feet Greenville NC
207 E Arlington Blvd
Greenville, North Carolina 27858
M-F: 10am - 7pm
S: 10am - 6pm
Su: 12pm - 5pm

View Store