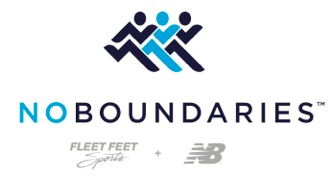 Sign up for the Michelin No Boundaries Program Here:  https://www.signmeup.com/99957
Fleet Feet is excited about the opportunity to offer a No Boundaries program exclusively for employees of Michelin.  Practices will take place at the Michelin Donaldson Campus.  For questions regarding the program, please contact our Director of Training Groups - Anna Katherine Freeland.  Her e-mail is ak@fleetfeetgreenville.com.  You may also contact Meghan Fain of Michelin via email at meghan.fain@us.michelin.com.
No Boundaries is a nationally organized and recognized program, sponsored by New Balance and offered at Fleet Feet Sports stores across the country. The program is structured to help you cross the finish line of your first 5k (3.1 miles) in just 12 weeks! The program, like Fleet Feet Sports, is all-inclusive. It knows no shape, size or speed. Along the way we'll provide you with motivation to keep you moving, guidance and advice, weekly group training runs or walks, and educational clinics on topics such as proper nutrition, choosing the right gear, and avoiding injury. Plus, you'll have the camaraderie of others just like you!
The program meets twice a week during the training period and workouts will last about an hour. The cost of the program is $75* . This includes a No Boundaries labeled technical shirt, Road Runners Club of America insurance, giveaways, informative clinics, expert coaching and mentor assistance.
The program will be training for the Edouard Michelin Memorial 5k on August 16th!
Interest Meetings
May 6 - 5:00-6:00pm - Donaldson Campus Family Health Center
May 13 - 5:00-6:00pm - Donaldson Campus Family Health Center
First Workout
Week of May 19 - Michelin Donaldson Campus
Registration Deadline
May 18
Michelin No Boundaries More Info »
Program Start: ex: Sunday, January 18th, 6:00pm
Program Fee: ex: $100 excluding race fee