Fleet Feet Greenville offers a variety of training programs and group runs. For more information on each of these opportunities, please select a link above! If you have any questions regarding any of the programs, contact our Director of Training Groups - Anna Katherine! Her e-mail is ak@fleetfeetgreenville.com.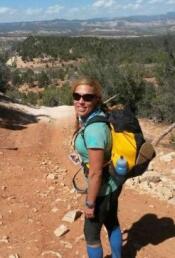 Anna Katherine Freeland (or A.K. as we all call her!) is our Director of Training Groups. She enjoys helping runners of all abilities set and work toward their running goals. She loves answering running questions and gets very excited come race day. She began running again in January of 2004, after having her two boys, with the Fleet Feet 10K training group and has since run many half marathons, full marathons, and ultra marathons. She believes that running will facilitate world peace. You'll know when you've met her because you'll leave with a big smile on your face!
AK is both an RRCA and Fleet Feet Certified Coach.
Have Questions?
Anna Katherine Freeland, Director of Training Groups
Email: ak@fleetfeetgreenville.com
---
Filter by Program Type: All | Beginners | 5k | 5-10mi | Half | Marathon | Other