Tom Tom GPS Watch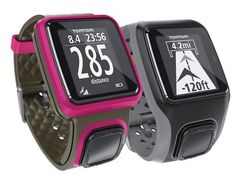 Key Features: 
Runner Cardio: The TomTom Runner Cardio has a built-in Heart Rate Monitor so you get more out of every run. This is built in to the watch and tracks the blood flow in your wrist. This is done by shining light through the skin and detecting the changing light reflections.
Multi-Sport Cardio: All New TomTom Multisport Cardio has a built-in Heart Rate Monitor and is designed just like the Runner Cardio all though you can use this for swimming, Bluetooth Smart, Up to 8 -10 Hours life time. Also comes with a bike mount. 
Multi-Sport: This the same thing as Multi-Sport Cardio but without the built-in Heart Rate Monitor. 
Runner: See real time running information at a glance. Your typical time, distance, a good basic pace watch.