Fleet Feet Sports is proud to partner with Mizuno to bring you a night of fun, friends, theater snacks, & an inspirational running movie. Join us on October 23rd, 2017 at 6pm at Fleet Feet to watch "Comrades" on the big screen! 
An intimate snapshot of modern South Africa, Comrades is a vibrant character study following the conflicting journeys of seven diverse South Africans competing in the country's most celebrated sporting event - the 90km Comrades marathon. The film also tells the extraordinary story of the Comrades Marathon itself- a race that has borne witness to the country's social and political upheavals since 1921, emerging as a powerful symbol of unity and the 'new' South Africa. (Summary by: Poppy Simpson on IMBd)
We will be celebrating a Comrade athlete at this event. Our very own Clive Gobbett has raced this iconic race 11 times!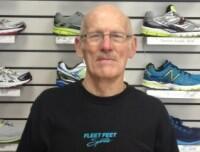 This is also a fundraising event where $10 of select Mizuno purchases will be going to the Breast Cancer Research Foundation. Fleet Feet's collaborative partnership with Mizuno aims to support the goal of zero lives lost from breast cancer. Join us in making "Project Zero" happen!