It's finally here… the brand new Torin 7 from Altra Running! This shoe has undergone an incredible update, with a fully redone tongue and more of Altra's EGOMax foam underfoot for a crazy comfortable run, mile after mile.
Curious about the Torin update or Altra in general? Join us for a demo run on Saturday, July 1st at 8am at Fleet Feet Greenville, SC.
Also, get a chance to demo the highly anticipated updated Paradigm 7 which will launch on July 1st! Run some miles with us, enjoy a free breakfast afterwards, and have a chance to win a Torin 7 or a Paradigm 7!
What: Altra Demo Run- Torin 7 and Paradigm 7
When: Saturday July 1st 2023 at 8:00am
Where: Fleet Feet Greenville- 635 Augusta St, Greenville, SC 29609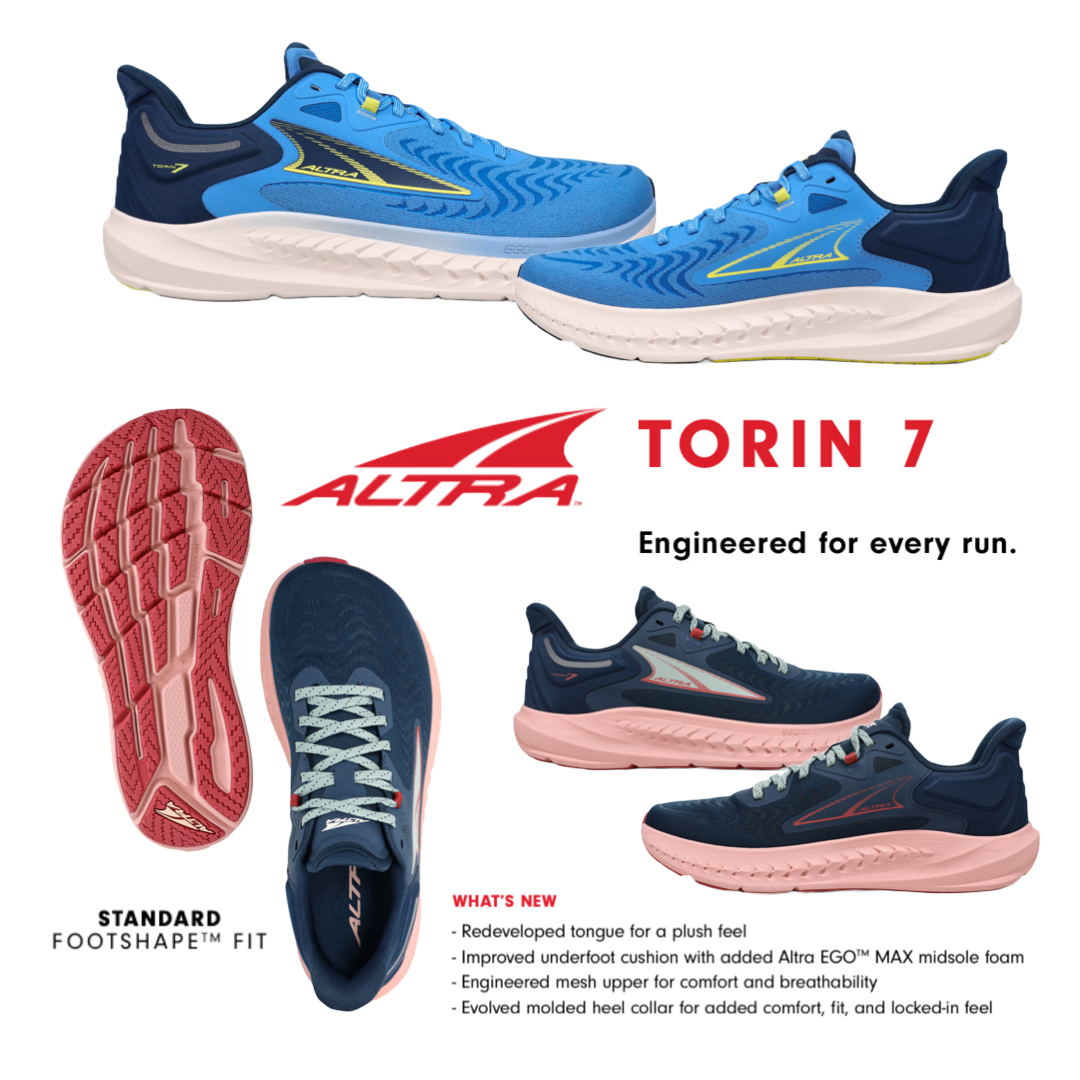 About Altra Running
Altra was founded in the back of a running store by two runners in 2011. They started the company because they wanted a running shoe to help you run more naturally. Altra shoes do this in two main ways: the FootShape™ toe box and Balanced Cushioning™ platform.
FOOTSHAPE™ TOE BOX
Altra's FootShape™ toe box is a wider, ergonomically designed forefoot area in every shoe. This allows the toes to relax and spread out naturally and the big toe to remain in a straight position for maximum stability and power. Plus, it enhances stability for all-around comfort.
BALANCED CUSHIONING™
Most shoes have more cushioning in the heel than the forefoot, causing a slight downward slope. You may have heard of this as "heel-to-toe drop." Every Altra shoe is built on a Balanced Cushioning™ platform that positions the heel and forefoot an equal height from the ground. Therefore, all Altra shoes are Zero-Drop™ shoes that can feel flatter than other running shoes. This natural foundation aids in optimal alignment, cultivates better form and encourages a low-impact landing.