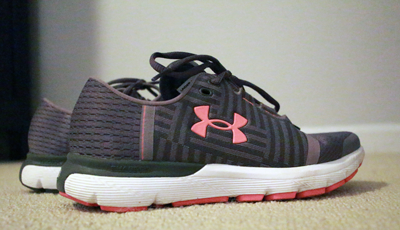 In our last staff meeting, we spoke a lot about the new Under Armour shoes we are carrying.  Among the line-up include the UA Bandit, UA Gemini and the UA Europa.  My run in UA Gemini 3, their more premium cushion model of a neutral shoe, did not leave me wondering whether Under Armour had arrived in the running shoe business.  They most certainly have and the ride in this shoe was comfortable and responsive.  
At first look, the shoe has a unique fabric pattern to give it character.  However, the neutral tones of the shoe allow me wear them running or with jeans.  I love the versatility of the color scheme.  They also carry the shoes in black which is a staff favorite for sure.
In learning about the shoes, the form of the shoe is made in the same factory as their sports bras.  Why does this matter?  The fabric, like sports bras, is specially molded to create its form.  There is no extra stitching involved.  This makes the upper and the area around the heel create a nice form around your foot like it was giving you a hug.  
For neutral runners, this is definitely a shoe to try.  The form fit, cushion and responsiveness is great for tempo runs for your training.
- Kelly Parker