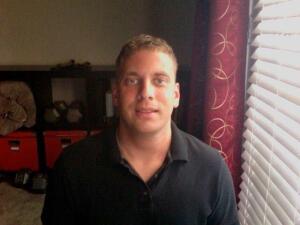 Bill Bickert is our Streaker spotlight this week.  Bill started running to get healthy and loss weight.  He is a motivation to others and continues to set new goals with a great group of friends.  Bill is now co-captain of the Streaker sub-group Chazz Michael Michaels this session.  
Why did you start running?
Like many others, I began running in order to get healthy, lose weight, and to have an aerobic workout.  At the time, running seemed like the best sport to accomplish all of this:  I had just moved to Greensboro and wanted to explore the area, I could do my workouts when I wanted to, and it was easy enough to get started.  

How many sessions have you been a Streaker?
I've been a Streaker for the last eight sessions.  

What do you love most about being a Streaker?
The best part about being a Streaker is the people.  Some of my best friends I've met through Streakers, and the amount of support that everyone gives each other is amazing.  It's hard to have a bad run when you're among such energetic, happy, motivated, supporting people.  

Running accomplishment you're most proud of?
Being fortunate enough to have the mental and physical strength to get out there everyday.  
What are your 2015-2016 goals?
To run my first ultra marathon, PR in the half marathon, and have fun!
Best piece of advice you'd give someone considering their first half-marathon or marathon?
Do it!  Get a plan, stick with it, and do it!  It is one of the most rewarding experiences you can achieve.  Believe in yourself, and you will succeed.  
What is your favorite place to run in Greensboro?
Road - A& Y Greenway
Trail - Blue Heron Trail