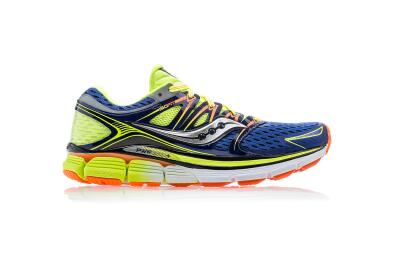 The Saucony Triumph ISO would have been the 11th iteration of Saucony's Triumph line.  Shoe companies, like all companies, like to tinker with the fit, function and feel of a shoe.  The most popular change in a shoe that we can remember is when Brooks tinkered with the Trance and it became the Transcend.  Saucony, and its shoe lab, followed suit with their cushioned neutral shoe.  Saucony is not calling this shoe the Triumph 18, but the Triumph ISO.  The ISO stands for ISOFit. 
The ISOFit has taken roughly 0.4 grams of weight off the upper of the shoe in a men's size 10, respectively.  The upper wraps around the foot and learns how the foot moves with each strike.  I chose to run in the shoe for the first time during the City of Oaks/Rex Healthcare Half Marathon in Raleigh, NC.  When I slid the shoe on my foot, I could feel the upper wrap around the top of my foot.  The tongue stayed snuggly in place while the heel and the "run dry" technology hugged my ankle.  I actually enjoy a firmer shoe and wondered how this cushioned model might react on course.  I also usually wear my shoes a bit loose when racing.  The extra cushion around the mid-foot and heel still allowed excellent, natural movement.  The lacing could be loosely compared with Nike's Flyknit technology in that the eyelets are not sewn into the show, but independent of it, another great piece of the ISOFit technology.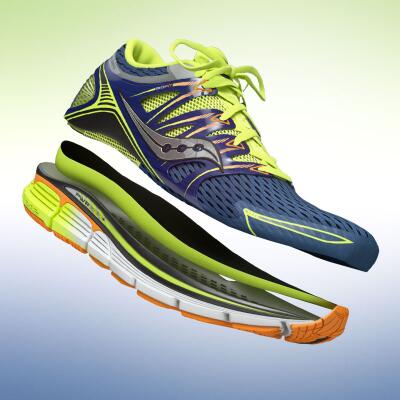 The next improvement on the Triumph ISO is the PowerGrid.  Saucony's ShoeLab worked to create the new "PWRGRID+".  The claim is that it is 20% more cushioned than the Triumph 17.  The mid-foot counter has also been removed.  The foot is allowed to move more freely.  I can say that having run in the Brooks Glycerin 12 and its rounded, narrow heel and SuperDNA, I was curious as to how responsive the Triumph ISO would be.  To me it felt like the ride of the Glycerin 12, with a bit more response, which better suited my preferences. I have run in the Ride 7 and loved the responsiveness, but found it a bit narrow.  The Triumph ISO was like running on a pillow that then allowed you to feel the road.  It was just enough cushion, but not over the top.  I never once felt like I was sinking into the road, but more like I was springing off the ground.  It was truly a nice ride, especially with all the hills during the race.   
If you are looking for some extra cushion with a superb fit and responsiveness, pop by Fleet Feet Sports Greensboro or High Point and try on the Triumph ISO!!! 
W. Andrew Corbin, M.Ed.
Manager, Fleet Feet Sports High Point