Keeping 18-year-old world junior champion Mary Cain on track is the fulltime job of the Air Zoom Structure, which for decades has been proving that stable doesn't have to mean slow. And no Air Zoom Structure in history is more up to the task than this 18th version. Whenever Mary needs stability, the triple-density Dynamic Support system will kick in. Should she crave some extra support from the top, lightweight Flywire cables will hold her steady. And when it comes time to go, the ultra-responsive Nike Zoom Air in the forefoot will get her up on her toes in a hurry.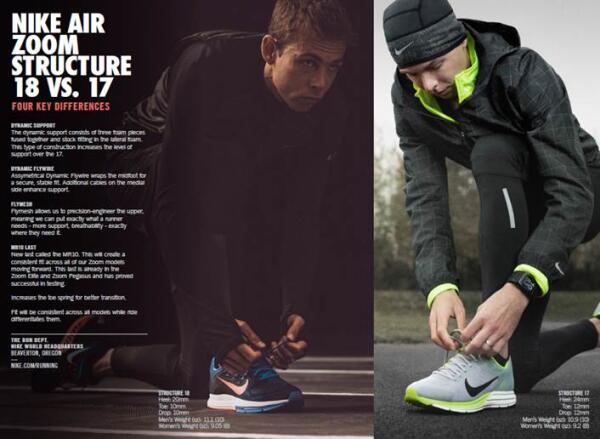 Key Differences between the Nike Air Zoom Structure 18 vs 17
1). DYNAMIC SUPPORT
The dynamic support consists of three foam pieces fused together and stock fitting in the lateral foam. This type of construction increases the level of support over the 17.
 2). DYNAMIC FLYWIRE
Asymmetrical Dynamic Flywire wraps the midfoot for a secure, stable fit. Additional cables on the medial side enhance support.
 3). FLYMESH UPPER
Flymesh allows us to precision-engineer the upper, meaning we can put exactly what a runner needs - more support, breathability – exactly where they need it.
 4). MR10 LAST
New last called the MR10. This will create a consistent fit across all of our Zoom models moving forward. This last is already in the Zoom Elite and Zoom Pegasus and has proved successful in testing. Increases the toe spring for better transition. Fit will be consistent across all models while ride differentiates them.