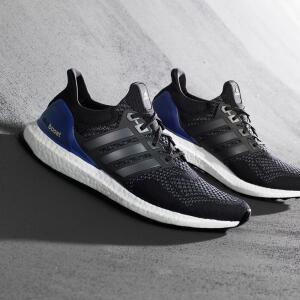 I was lucky enough to receive a pair of the adidas ultra boost when they launched last week. Having never run in such a cushioned shoe before, I wasn't sure how my body would handle it.  
Out of the box, the shoes felt great on my feet. The primeknit upper hugged my foot without feel restrictive. The heel counter is a unique winged shape, securing and supporting without putting too much pressure on the Achilles.
 
As with most shoes these days, the adidas 3-stripe logo doubles as support for the upper. It links up with the eyelets to form a sort of cage around the upper, which I loved because it allowed the primeknit to feel like booties on my foot without sacrificing structural integrity.
 
The midsole is 100% boost, which is the revolutionary TPU material that adidas first introduced in 2013 with the energy boost. It was soft and supportive under my foot, but I didn't feel like I was sinking in quicksand. As a larger runner, some models feel too "sponge-like" when running, due to my extra mass compressing the midsole, but this did not happen during my run.
 
The outsole is one of the most striking features of the ultra boost. Dedicated adidas fans are familiar with the Continental Rubber outsoles that have pervaded their running line. On the ultra boost we find a "stretch web" outsole, which was designed to hold the 100% boost midsole in place, something that Continental Rubber could not do. The nubs, for lack of a better word, add to the cushioned feel of the shoes, since they are composed of a softer rubber. Despite that added softness, I have not yet seen any extreme wear on the outsole.
So far my longest run in the ultra boost has been 10 miles, but I don't see any reason why this shoe could not take me through a marathon or longer. If you like a secure feeling in your shoes, you should love how the primeknit molds to your foot like a second sock. Fans of premium cushion running shoes should definitely consider the adidas ultra boost when they are next looking for shoes.

The adidas ultra boost retails for $180 and is available at our Greensboro and High Point locations.
Review by Mike Vance