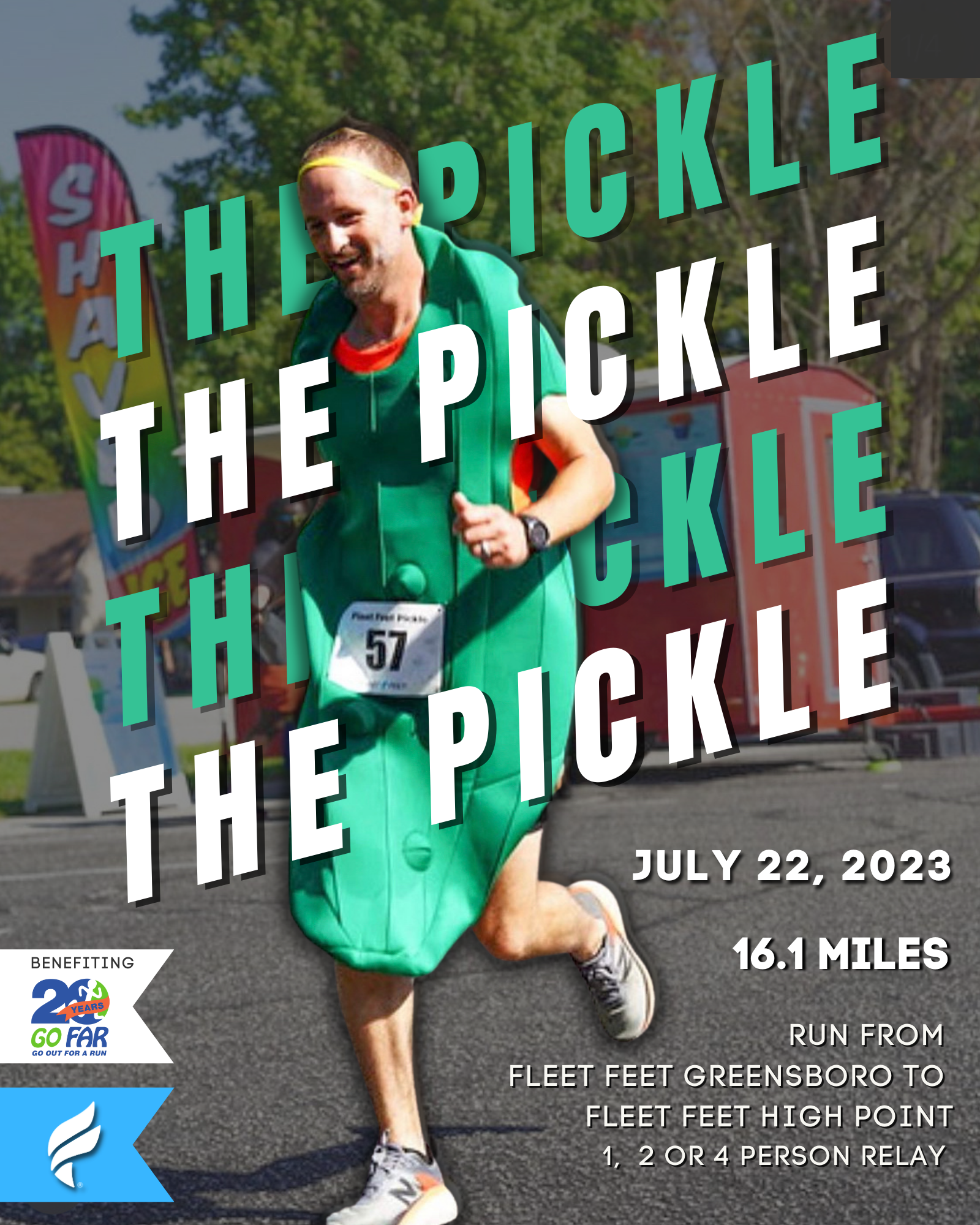 In July 2023 we will start the run at Fleet Feet
Greensboro

and end with a post race party at Fleet Feet High Point.

The relay course takes runners along the Greenway from Greensboro to High Point in a 16.1 mile route. This will be a relay in which 4 hand off locations will be set. Teams can be comprised of 4 members, 2 members or 1 brave participant! There will be a shuttle back for solo runners.

For your $30.00 donation (per person) you will a get a pair of pickle running shorts. All proceeds from this fun run will go to the Go Far-Fleet Feet Lace Up Program. Funds from this program are used to provide children at schools throughout Greensboro and High Point with new shoes in order to safely and comfortably participate in the Go Far 5K training program/race.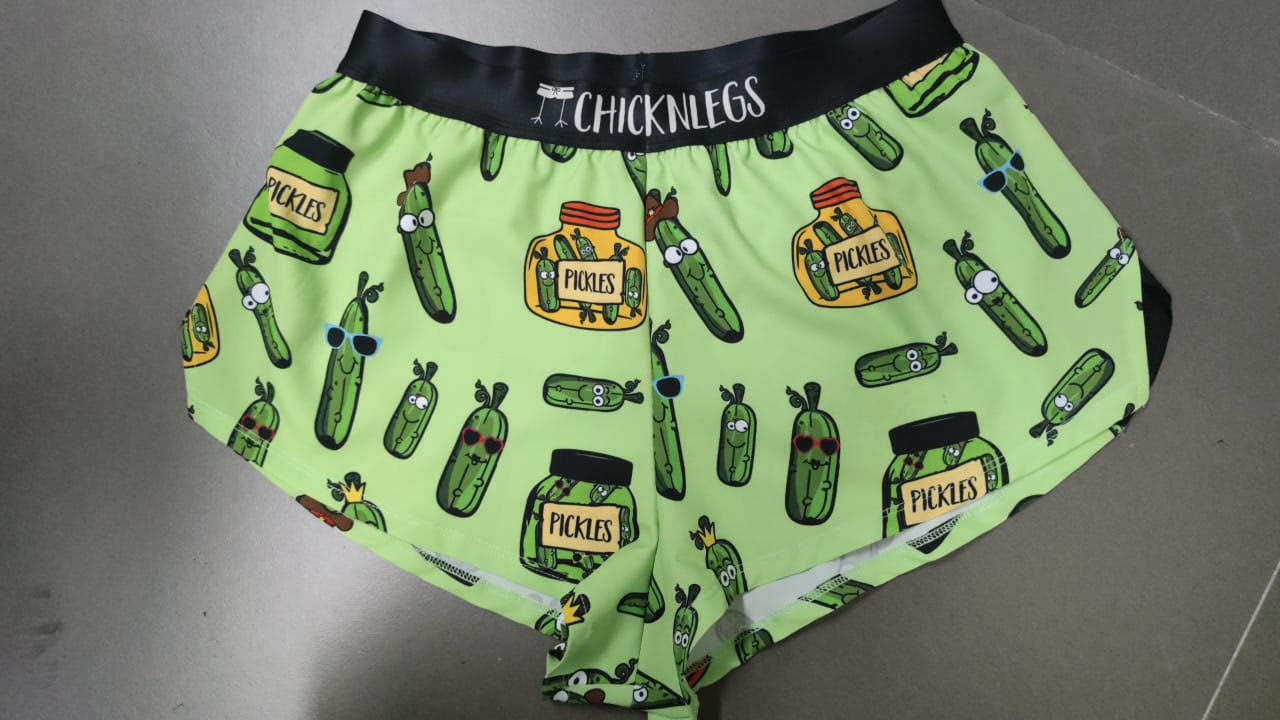 Start Location: Fleet Feet Greensboro--3731 Lawndale Dr Greensboro, NC 27455
Start Time: 7:00am
End Location: Fleet Feet High Point--2762 Highway 68, Unit 111 High Point, NC 27265
Packet Pick-up:
Thursday, July 20th at Fleet Feet High Point from 4-6pm
Friday, July 21st at Fleet Feet Greensboro from 4-6pm
Saturday, July 22nd from 6:15-6:50 am at Fleet Feet Greensboro
Each team will be responsible for transportation of their team members. There will be places for cars to stop at each relay check point. Aid stations will be located at each relay handoff and at 3 additional spots. For any further questions, please contact John at john@fleetfeetgreensboro.com.
FAQ
Why is it called The Pickle?
This is a destination run between the two stores. We threw around names and it was mentioned that the run was quite a "pickle", and the name stuck. The Fleet Feet Pickle was born.
How are we doing transportation?
You will be responsible for transporting your team members to and from each relay spot. We have mapped out the course to have safe locations for cars to pick up and drop off.
We will have 3 relay points in 2023.
Mile 4.1 991 Boulder Road – in front of Coilplus North America
Mile 8.2 Leonard Rec
Mile 11.6 Kernodle Middle School
Water stops will be located at all relay checkpoints in addition to the following stops:
Mile 2.3
Mile 6.7
Mile 13.4
Finish 16.1
What about transportation for the brave soul that runs the entire length of the race?
Yes, there will be a shuttle driving people back to the High Point store.
What if we just have two people on our team?
Great! Teams can be comprised of 2,3 or 4 members, in addition to the solo runners. If you're part of a two person team, we would recommend having runner #1 go from the start to 9.75, and runner #2 runs from 9.75 to the finish.
Will the course be marked?
Yes! We will have Pickle arrows leading you down the course. We will also have a bicycle leading the way and following the rear.
Do you have turn by turn directions?
Check back for official directions and strava route.
Is this an official timed event?
We will be offering this as a fun run. We will not have official times offered. We will not have streets blocked off during the event, so it will be important to abide by all traffic laws during the run.
Will streets be blocked off for the run?
No. We will not have streets blocked off for the event, so please abide by all traffic laws while running.
Will there be food and drinks at the end?
Yes! We will have food and beverages at the end of the run along with plenty of time to mingle with your fellow runners.
Is this for charity?
Yes! GO FAR will be our benefactor in 2023. We are both sharing our 20th year anniversary in 2023 and will be partnering to celebrate our community and accomplishments!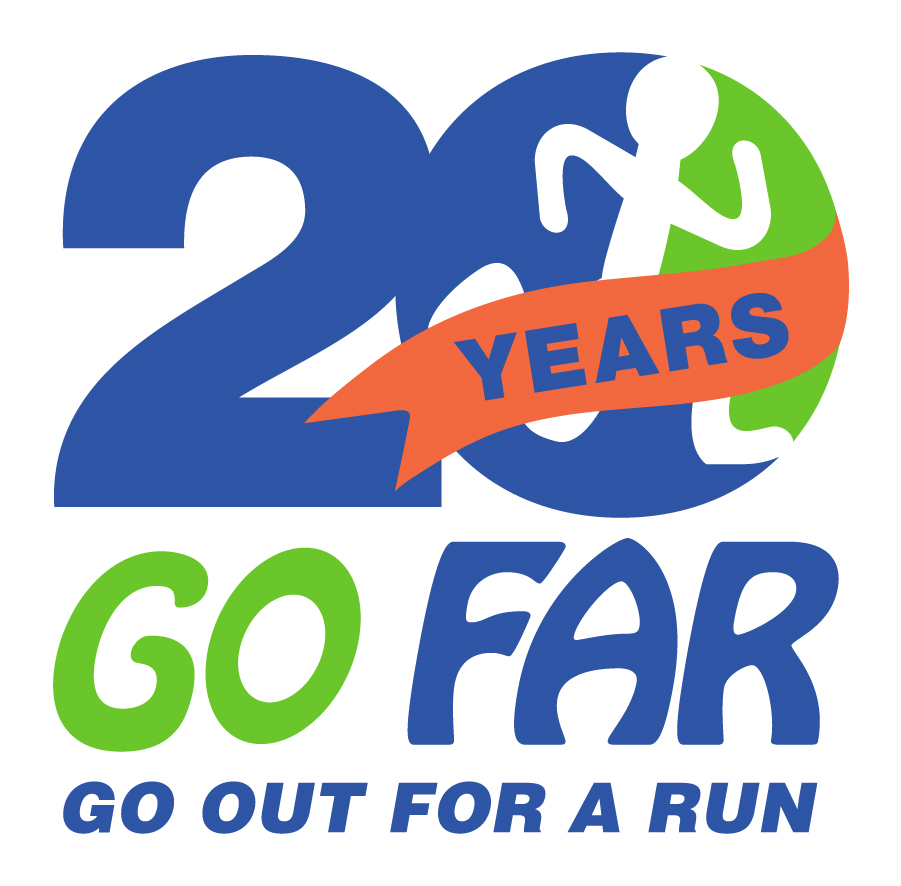 Launched in 2003 in response to the childhood obesity epidemic, GO FAR is a comprehensive fitness program designed to teach children of all abilities about healthy eating habits, goal setting, and how to train for a 5K. GO FAR teaches kids that active, healthy lifestyles are fun and can be sustained throughout their lives.