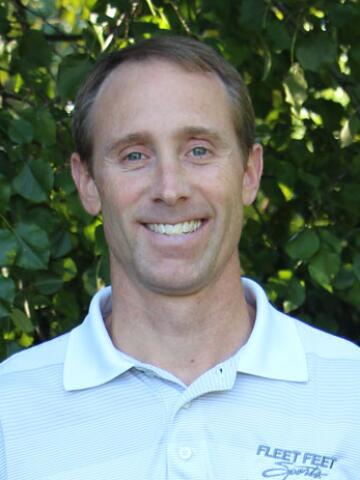 John Dewey
Owner
John is the owner of Fleet Feet Greensboro & High Point since 2003. John graduated from Eastern Kentucky University with a Bachelor's degree in Athletic Training and went on to earn a Master's degree from the US Army/Baylor University Physical Therapy program. During his time at Eastern Kentucky, he competed as a collegiate athlete in tennis and swimming which transformed his love for triathlons in 1996.
John is a proud husband to his wife Liz, and father to his three children: Matthew, Alexandra, and Brandon. One of his main goals at Fleet Feet/Off 'N Running is to provide each customer with excellent care and service.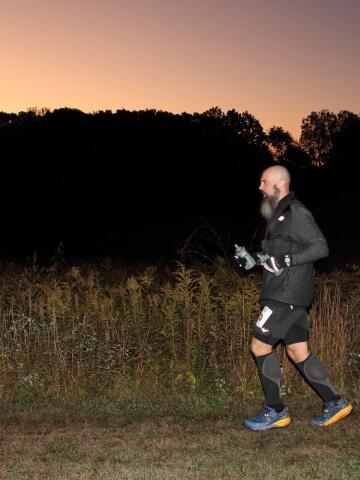 Joe Randene
General Manager
Joe started running while living in Europe in 2014. He worked his way through 10ks to marathons, to ultramarathons. Once he was introduced to trails, he never looked back. In 2018 he completed his first 100 mile race, Allison Woods Halloween Hobble. In 2019 he completed his second 100 mile race, the Indiana Trail 100, earning an entry in to the lottery for Western States 100, the mecca of US Trail Running. His ultimate goal is to successfully complete Western States.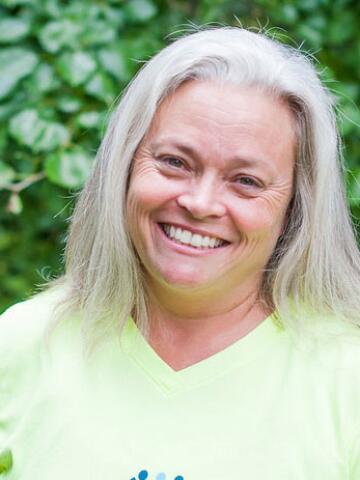 Leigh Earman
Retail Experience and High Point Manager
Leigh comes to us as a Personal Trainer in High Point, NC. She moved to High Point with her husband from Harrisonburg, Virginia. Leigh loves being active and has a passion for helping others get active and stay active. Running, biking, lifting weights, and boxing are some of the things she does to keep it fun.
Fun fact: The biggest challenge Leigh has ever done is the Augusta Half Iron Man! Gotta keep moving!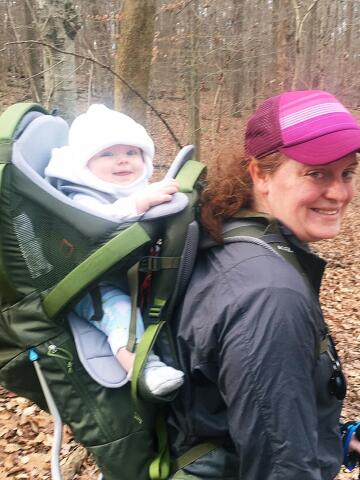 Mandy Wahl
Marketing and Community Outreach Manager
Originally from Michigan, Mandy moved to Greensboro in 2010. She took up running when she lived in Boston and started back up about 4 years and numerous races ago. She mostly runs ultra marathons these days and loves spending time in the woods trail running. When she is not running, she is spending her time with her husband, Justin, (who she met after a 5 mile trail run), daughter, Mara, dog, Shenanigans, and cat, Trouble.
Fun fact - Her first ever running race was a marathon.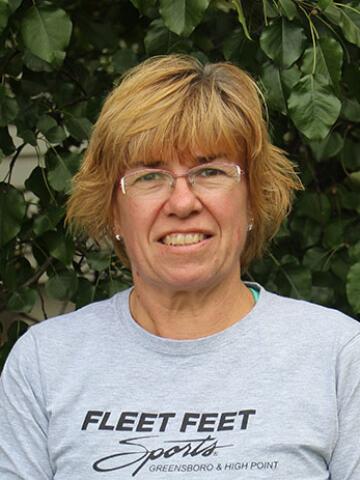 Tara Frame
Outfitter
Tara is one of those "late in life" runners starting when she was 48. After making some serious life changes and losing a significant amount of weight, she took up running. It took Tara 6 weeks to be able to run a mile nonstop in about 18 minutes. 7 weeks later, she ran in the Women's Only 5K and was hooked on racing. 2 years later she ran her 1st marathon. Running has taught Tara a lot about herself and has shown her that you can do anything once you put your mind to it!!
Fun fact: Tara played coed softball in the Fall. Her favorite race is the Law Enforcement 5K because of the charity it benefits, the Special Olympics.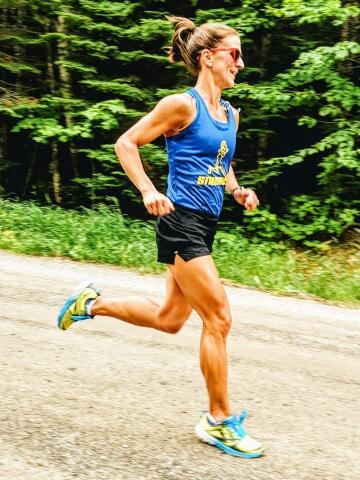 Jen Goff
Training Program Coach
Jen ran XC and track competitively for Bethel High School in CT and Lehigh University in PA. She founded the Off'n Running/Fleet Feet Greensboro Streakers in 2011 and has since produced countless Boston qualifiers and thousands of PRs. Jen also coaches individuals across the country through her work with RunJen Coaching and Team Wicked Bonkproof. Personally, Jen holds a 2:51 marathon PR and has her sights set on qualifying for the Olympic Marathon Trials. When not coaching and training, she enjoys spending time with her husband, Mike, and two sons, Logan and Cooper.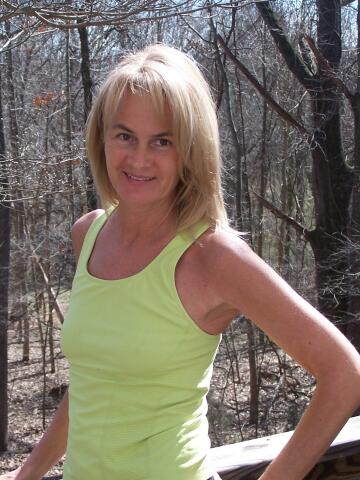 Johanna Bingman
Road Runner Coach and Outfitter
After moving to Greensboro in 2007, Johanna took up running but only ran one time a year. Her chosen race each year was the Women's Only 5K. She wouldn't run again until the following years race. She continued like this until 2011 when she decided it was time to get more serious, especially since she had just registered for her first full marathon which was 10 months away! The rest is history. She became addicted to the sport. Since then she has run numerous 5K's and half marathons. She particularly enjoys destination half marathons which fulfill her love of travel and running!
Johanna is a personal trainer and running coach and gets great satisfaction watching her clients reach their health, fitness and running goals. Her motto -- Keep Moving!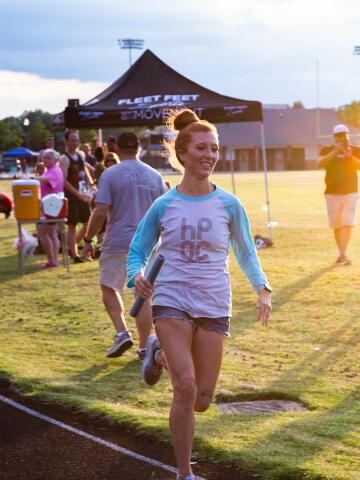 Sara Huffman
Road Runner Coach and Outfitter
Sara is an adult onset runner though she is hardly an adult. Since beginning running she has fallen in love with the spirit of the sport and the community built around it. She is currently a full time student enrolled in the Physical therapist assistant program at GTCC and has a passion for helping others stay active in their lives. Sara's biggest accomplishment to date is waking up this morning and not hitting snooze. As the coach of the High Point ROAD RUNNERS Sara loves watching her athletes grow as both runners and people and truly believes running changes everything.
Fun Fact: Sara has never seen or read any of the Harry Potter series and enjoys making up fun facts. She can also break dance.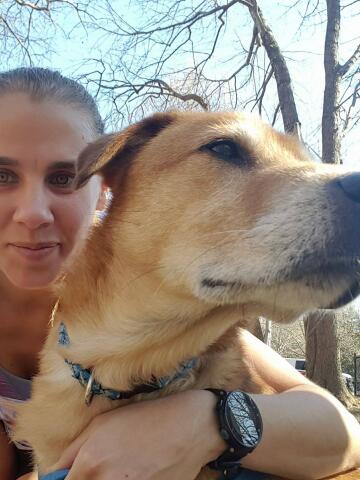 Katrin
Outfitter
Katrin began running in her 30s and has since successfully participated in numerous marathons and shorter distance races; more recently she picked up road cycling and started competing in multisport events. She left behind her career teaching history and now owns Crazy Running Greensboro which allows her to share her passion for being active with kids. When not working, Katrin can be found on adventures with her dog, in the dance studio taking ballet and modern dance classes or travelling.
Fun fact: Katrin volunteers with Piedmont Wildlife Rehab and can tell you more about opossums than you ever thought you wanted to know.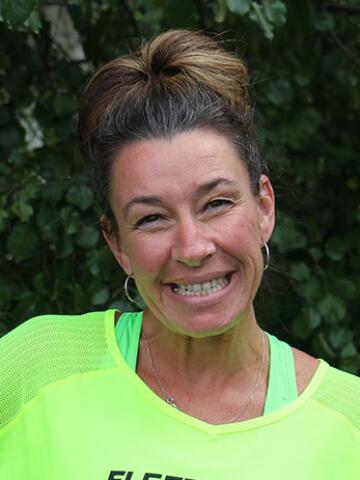 Cherie Witte
Outfitter
Originally from Ohio, Cherie moved to Greensboro to attend UNC Greensboro to finish her studies. At age 40, Cherie decided to start running. She is now training for her 5th marathon. When she is not working or running, Cherie enjoys spending time with her husband, Chris, and their three daughters, Claire, Christina and Caroline.
Fun fact: Cherie's past careers allow her to be able to color your hair, make you a cocktail and embroider a towel while flying at 10,000 feet.