Don't let the sign fool you! We are still the same crew, but with a new name and some new flair.  Come by our stores to see new improvements and programs!
Store Owner: John "Dewey" Dewey
Hi, I'm John Dewey and I have been the owner of Off 'N Running since 2003. In addition to working at the shop, I'm a physical therapist, and a certified athletic trainer.  I was a collegiate athlete in tennis & swimming, and I have been a triathlete since 1996. I am also a proud husband to my wife Liz, and father to my three children: Matthew, Alexandra, and Brandon. One of my goals at Off 'N Running is to provide each customer with excellent care and service, therefore, I make sure to train each one of my employees with the knowledge and expertise I've gathered throughout the years. You can expect the best from Off 'N Running! Read below to get to know my employees.
---
Emily "EJ" Boles
Favorite Shoe: Asics Cumulus
Running Bio: I started running in 7th grade (1991) when all my friends were going out for the team. I found out then that I really enjoyed running and I was pretty good at the distance events. I ran for Science Hill High School in Johnson City, TN and then ran for East Tennessee State University. After college I started doing triathlons and really enjoyed them, but find it hard to train all three disciplines. I have run four marathons with a PR of 3:09. I received my Masters Degree from High Point University in Sports Studies. I help coach cross country and track at Greensboro Day School. I have worked at the store since January 2007.
Favorite Post-Race Food: A huge hamburger with all the fixins!
Favorite Race: Any cross country race and the Boston Marathon
Favorite Running Moment: There are several - winning the Team State Championship in high school, placing 25th in my senior year at the NCAA Regional CC meet (top 25 make All-American), running the Boston Marat
---
Mike Vance
Favorite Shoe: Brooks PureConnect
Running Bio: I thought my brother was crazy for running cross-country in high school. Instead, I was the captain of the golf team. After college, I took up running, primarily to run the Manchester Road Race in Connecticut, which takes place on Thanksgiving Day. That got me hooked, and since then, I've run everything from a 5k to a 54 miler. You'll find me exploring trails throughout the week, or joining some of the local AM running groups, nothing better than finishing a workout before 6 a.m.!
Favorite Post Race Food: Chocolate Milk and an English muffin
Favorite Race: The Rock 'n' Roll Savannah Half Marathon
Favorite Running Moment: Proposing at the finish of the 2012 Savannah Half Marathon to my now-wife
---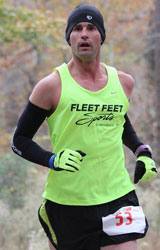 Andrew Corbin
Favorite Shoe: Adidas Boston Boost 5
Running Bio: I started running and riding as a way to take my mind off of the classroom and productions that I had been directing.  I actually started out racing bikes and then transitioned into Triathlon.  Ultimately, running and triathlon became a way to meet some extraordinary people.  I love all distances (except maybe the 140.6, haven't tried it yet.)  I also enjoyed coaching Cross Country and watching the athletes meet and break through their goals.  Now, it is simply awesome getting customers in the correct shoe fit so they can consistently "Run Happy"!
Favorite Post Race Food: Brunch with Tater Tots and ketchup!!  (Or any type of fried potato, but Tater Tots are the best!) or Farm Burger in Asheville with a craft beer (Highlands Cold Mountain Winter Ale!!)
Favorite Race: The Asheville Citizen-Times Half Marathon (no longer exists).  Challenge/Rev3 Williamsburg 70.3.  Anything in the woods!!
Favorite Running Moment: Anytime spent with friends.  Dancing at water stops!
---
Jennifer "Goffball" Goff
Favorite Shoe: Mizuno Elixir
Running Bio: I won the first race I ever entered in 4th grade (a cross-country mile) and was hooked.  I started running competitively as a freshman at Bethel High School in Bethel, CT and continued at Lehigh University in Bethlehem, PA.  I've enjoyed running a lot farther since then.  I have run five marathons with a 3:02 PR.  I also enjoy cycling and backpacking, although running is my true passion.  Thoughts of an ultra linger.
Favorite Post-Race Food: Cheeseburger or burrito!  Although, really anything, as long as it has cheese.  And wine.
Favorite Race: Richmond Marathon
Favorite Running Moment: the adrenaline rush of the final .2 of my first marathon.
---
Cherie Witte
Favorite Shoe: Mizuno Wave Creation although I am becoming quite fond of Asics Nimbus
Running Bio: I really did not begin running until the year I turned 40.  I tried a half because some friends were doing it, I was completely untrained and nearly killed myself, from that point forward I knew I needed a rematch but this time I would do it the right way and so my journey began….Now 4 years later I have completed 11 half marathons and 3 full marathons and let me tell you I am hooked!! I am also a PROUD member of the Streakers and look forward seeing to what the future brings!!
Favorite Post Race Food:  A BIG juicy cheeseburger and an ice cold beer….hmmm isn't that a song, well if it is its a good one!
Favorite Non-Local Race: Virginia Beach Marathon
Favorite Running Moment: The first time I tried to break 2 hours in a half, my brother in law agreed to run with me and keep me at pace, I just wanted anything sub 2…finished the Cannonball Half in 1:52:52! It was one of my proudest finishes to date!
---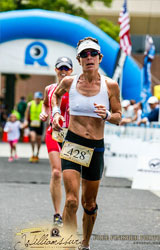 Kathi Coldwell
Favorite Shoe:  Asics Kayano
Running Bio:  I've been a recreational runner for over 30 years.  I've raced many different distances but prefer longer distance since I'm built for endurance, not speed.  I enjoy cross training with cycling, swimming, weight lifting and yoga.  I've also competed in triathlon and have completed 3 Ironman events.
Favorite Local Race:  Lakeside Trail Race
Favorite Non Local race:  Cabot Trail Relay
Favorite Running Moment:  I coached cross country and triathlon for over 10 years at the high school I worked at in Ontario and I loved watching my teenage athletes cross the finish line.  Especially my first time triathletes who were always excited about completing the challenge of a new sport!
---
Stevven Anderson
Favorite Shoe: Mizuno Wave Sayonara
Running Bio: 2 Time State XC champion at Ragsdale High School; USATF National Qualifier; USATF NC 1500 and 5k Champion; Ran XC/Track at Appalachian State University; 2013 Greensboro Race Series Champion
Favorite Post Race Food: Pizza and a victory beer
Favorite local race: Rotary Club of Kernersville Fourth of July 5k
Favorite non Local Race: RNR Virginia Beach 1/2 Marathon
Favorite Running Moment: Winning the NC State XC Championship team title (twice) with my best friends at Ragsdale, a.k.a. "The Dynasty"
---
Matt Sadlik
Favorite Shoe: Merrell Mix Masters & Hoka Mafate
Running Bio: I consider myself an injured cyclist who now love's trail running. I raced (Road and Cyclocross) for Appalachian State University until a bike wreck (4 years ago) made me consider alternative sources of cardio. Being in the mountains it seemed fitting to hit the trails and I haven't stopped since! I love hitting Pilot Mountain, Iron Mountain, Pine Mountain, Pisgah National Forest, or any other twisty turny single track that isnt flat. Ive done all distance races from a 5K to a 50k on the trails. I prefer longer distances and grinding out the miles. 5k's hurt... I have asthma....
Favorite Post Race Food: Pizza and Wheat Beer
Favorite Race: Smokey Mountain Ultra Relay
Favorite Running Moment: Crossing the finish line at my first Smokey Mountain Ultra Relay with my friends. Over 36 hours: we got lost, damaged the RV, hammered 220 miles (between 6 people), and survived. It was awesome!
---
Daniel Inman
Favorite Shoe: Saucony Mirage 3 (I'm on my 7th pair!)
Running Bio: I've ran on and off most of my life, from a bit in high school, what was required in the Army, and running my students in P.E. I picked it up for myself in 2007 before getting hurt in 2008. Took a few years off before I started running again. Currently working on about 20 months of running without any major break!
Favorite Post Race Food: Pizza or a good burger
Favorite Local Race: GOFAR 5k! I love how it involves the local kids and their parents
Favorite Non-Local Race: The Crooked Road 24 Hour Run (Rocky Mount, VA), a great event in November with fantastic staff and runners
Favorite Running Moment: Finishing up 34 laps at the CR24 for my first 50k in November of 2012 with friends from the Woo Hoo Crew
---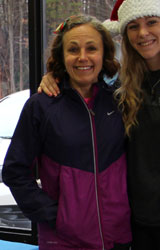 Paula Davis
Favorite running shoe: Brooks Ghost
Favorite post-race food: Quinoa with coconut oil, molasses, ginger, nutmeg, cinnamon, walnuts, raisins, and tumeric
Favorite local race: Turkey Trot
Favorite non-local race: Maggie Valley Moonlight Run
Favorite running moment: I was running the Carlisle Great 8 in Greensboro and stopped 10 feet from finish line in so much pain I could not keep going.   Two runners came from behind and pulled me across the finish line.   I also ran the Grandfather Mountain Marathon and placed 3rd in my age group and discovered my group of friends I had gone to the race with had all left me stranded 20 miles from the cabin we were staying in.  I hitch hiked back (3 different drivers) to the cabin to see them all piling into the van to come and get me.
---