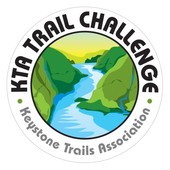 KTA Trail Challenge is an event for adventurous trail runners and hikers on the wild river hills of the lower Susquehanna Gorge. This daunting trail challenge event on the Conestoga Trail, State Park trails, and the Mason-Dixon Trail System, alternates breathtaking vistas with steep descents into dark, scenic hollows followed by strenuous climbs to the next vista. Prepare yourself for the steep hills, rocky terrain and deep ravines of the KTA Trail Challenge, an arduous, undulating and demanding course. Although the KTA Trail Challenge is a timed event, the challenge is not to "win" or "come in first," but to complete the hike in 12 hours or less (10 hours for the 25k). For many participants, the KTA Trail Challenge 50k is the ultimate test of physical fitness and mental toughness. "Winning" is the personal satisfaction that comes with finishing the course in the allotted time.
Click here to register for KTA Trail Challenge
Fleet Feet Training is excited to announce our Training Program offerings! We offer programs for everyone! Whether you're looking to get off the couch or want to tackle your next marathon, we can help you find the motivation to accomplish your goals.
Questions? Want to suggest a race? Email us at races@fleetfeetgaithersburg.com