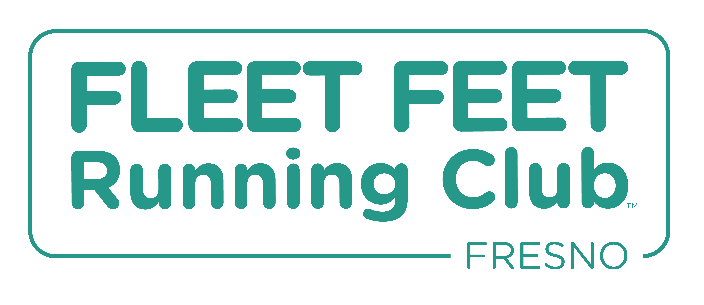 Training Programs at Fleet Feet Fresno
---
There are 3 training seasons at Fleet Feet Fresno:
Spring/Cal Classic: Mid-January to April.
Bridge the Gap/Summer: May to early July
Fall/2CM: Mid-July to November
Details and sign-up will be posted on Fleet Feet website as each season approaches.
Training Group Times and Locations
Twice a week coach-led group workouts:
Tuesdays at 6 or 7PM (depending on season) at Fleet Feet or Clovis West track
Saturdays at 6 or 7AM (depending on season) at Fleet Feet or other locations
Structured Thursday evening runs at 6PM at Fleet Feet, optional
Variety of running locations include Woodward Park, Clovis Trails, Millerton area hills, and some optional races.
Program Benefits
Guaranteed Lowest Price for 2CM and Cal Classic.
Written beginner, intermediate, and advanced daily training schedules developed by Fleet Feet Training Team Coordinator, John Volkman who has run over 160 marathons including one in every state and has coached marathoners for over 20 years.
Twice a week coach-led trainings
Experienced coaching at group workouts.
Exclusive discount shopping days
Regular informational email updates
Educational seminars and coaching on topics such as running technique and strategy, running shoes and gear, nutrition and hydration, stretching, injury treatment/prevention, massage.
Past team members: Join again or Refer a friend-$10 gift card
Suggested Activity Level Prior To Start of Training:
Half-marathon participants should have been doing some exercising recently, but the program encourages walk/run intervals for those doing their first half who haven't been running a lot. Experienced runners who are looking for a fast time will also be challenged as there will be schedules for both advanced and beginner half-marathoners. The opportunity will be there for veteran runners to do some of their long runs with the full marathoners on some challenging hills.
Full-marathon participants should have been running for at least a year and completed at least one half-marathon. They should currently be able to run or run/walk a minimum of 30 minutes (2-3 miles) three times a week.
You are strongly encouraged to consult with your physician and have a physical in preparation for this rigorous training program.
Training Group Levels
1) Beginner – First time half/full- marathoners using Run/Walk method
2) Intermediate – Faster paced/goal-oriented workouts for more experienced runners.
3) Advanced – Higher mileage and more intense speed work for full marathoners.
REGISTRATION for Fleet Feet Training:
Half-Marathon, 10K or relay: $145
Full-Marathon: $195
Bridge the Gap: $75
There are no exchanges or transfers at any time
Registration for Fleet Feet training does not include race entry.
Race Registration Information
Two Cities and Cal Classic Event Registration: You get the lowest race registration rate by joining Fleet Feet Training Groups! So, wait to register for the race until after training starts. You will get instructions on how to get the lowest rate once training has started.
For Two Cities Marathon info go to: http://www.twocitiesmarathon.com/
For Cal Classic info go to: http://www.californiaclassicweekend.com/
For Freedom/4th of July info go to: https://runsignup.com/Race/CA/Fresno/FresnoFreedomRun
Kickoffs: 7PM at Fleet Feet Fresno
You will want to plan to attend Kick-off! Important schedule and training info, food, and fun to all who attend. If you can't make it, then arrangements can be made to get the information at another time.
QUESTIONS?

Call: Coach John @ (559) 367-1304 or Fleet Feet Fresno @ (559) 433-6750
email: coachjohn@fleetfeetfresno.com
---
Filter by Program Type: All | Beginners
Spring Half Marathon Running Club More Info »
Program Start: January 14th 7PM
Program Fee: $145 excluding race fee
Spring Full Marathon Running Club More Info »
Program Start: Tues January 14th, 7pm
Program Fee: $195 excluding race fee
Program Start: ex: Thursday Night Fun Runs, 6:00pm
Program Fee: Fun Runs are FREE
Program Start: First Coffee Run is Saturday, 12.21.19 at 6:30 am
Program Fee: FREE
Running Dirty: A Beginner Trail Run Series More Info »
Program Start: Saturday, Feb. 1st 2020
Program Fee: FREE!