As owners of Sierra Running Company and active members of the running community, many people know Aaron and I. Some of you remember November of 2005 when our lives were shattered and were an active part in helping us cope with our devastating loss. Our daughter, Alyssa was 7 years old and walking by my side when she was struck and killed by a truck traveling in the wrong direction down the aisle of a parking lot. How the driver missed seeing us, I will never know. There is no way to adequately describe our incredible loss. Alyssa was a bright and lively little girl who loved to swim, run, read and play soccer. She loved her many friends and always had a helping hand for her younger sister. She was friendly, fun and compassionate. She wanted to be a cheerleader, a rock star or a teacher when she grew up. And in one terrible moment she was gone. The darkness that follows the death of a beloved child is all consuming. There is no way to fix it and seemingly no way to help. Of course that didn't stop the running community from trying.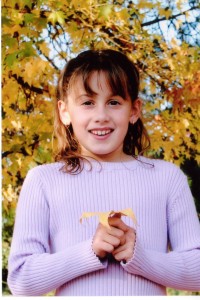 After the accident, we received an enormous amount of support from the community. Our friends, acquaintances, church groups, Maple Creek family, Sierra Challenge Express, Fresno runners, the Saint Agnes Men's Club, and complete strangers all helped us make it through the first painful months by providing meals, donations, yard work, Christmas shopping, hugs, prayers, shoulders to cry on, you name it. It was incredible to be surrounded by so much caring. To this day we are so grateful for everything done on our behalf. One of the things we are most grateful for is the creation of the Alyssa Samansky Track Challenge.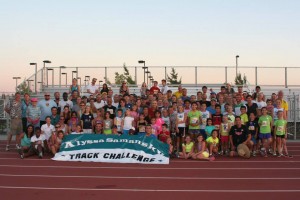 Track and field has played a huge role in our lives. It allowed Aaron to go to college, it is in fact how Aaron and I met, and every Wednesday, with Sierra Challenge Express we even took our daughters to play while we ran. After Alyssa died, Sierra Challenge Express started the Alyssa Samansky Track Challenge as a way for us to celebrate Alyssa's life. On Wednesday, August 20th, we will come together for the 8th annual Alyssa Samansky Track Challenge. It is a great feeling for us to compete, and remember the life of our oldest little girl. This meet is great for runners or walkers of all ages and abilities. Running is not required either! Many people come to cheer the runners on, volunteer or just come out to give us a hug! This meet, put on by Sierra Challenge Express, embodies everything we love about the sport of Track and Field.
Please join my family and I as we run to remember Alyssa.
Andrea Samansky
For more info go to Alyssa's Track Challenge.