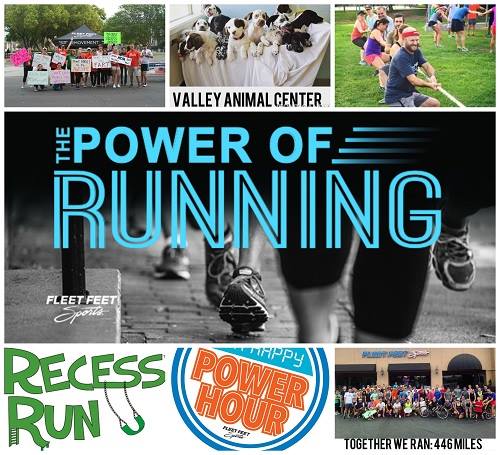 Fleet Feet Fresno put on a campaign from August to September highlighting the positive impact running has on our lives. Since we are a locally operated company, we wanted to continue our support for our community by promoting and supporting a local charity. Our followers voted for local no-kill animal shelter: Valley Animal Center.
There were three main components of the Power of Running campaign:
 
1) THE POWER OF RUNNING: FOR GOOD
HASHTAGS: #TPOR #FORGOOD

Key Event: Sales of specific products accumulated proceeds to support a local charity of our choosing. Our staff narrowed down the list of charities to three finalists and we posted the three finalist charities to our social media platforms (Facebook, Instagram, & Twitter) and our followers voted for the FINAL winner: Valley Animal Center.
From
August 1st- September 27th 
(
for 9 weekends) a different partner company each weekend donated part of the sales of their products to the winning charity. (For example, Nathan Hydration will be donated $3 per hydration unit during their designated weekend to the charity).
For full listing of days and brands
click here
. 
2) THE POWER OF RUNNING: FOR FUN
HASHTAGS: #TPOR #FORFUN #RECESS RUN

Key Event: Recess Run
3) THE POWER OF RUNNING: TOGETHER
HASHTAGS: #TPOR #TOGETHER #POWERHOUR

Key Event: Brooks Power Hour. We brought the community together to rack up the most miles in one hour. We competed against 149 other stores.
Vimeo Power of Running promotional video: