Whether you have already found your way to the amazing trails in our community or you are looking for a new challenge/something to change up your old routine, we invite you to become a

As a member, we encourage you to get out on the paths of six area trails and explore. You will have the opportunity to earn stickers for each location that you can sport on a laptop or water bottle. A portion of your membership will also be allocated to Fox Cities Greenways; a local nonprofit dedicated to development and preservation of the trails and greenways all across our region.
It's that simple!! There is no deadline, no required distance, no way to not have fun. The Buddy System IS strongly recommended.
Our goal is to continue to encourage folks to hit the trails and we'll see where this program takes us. Your Muddy Fox perks are listed below.
Basic Member + Technical Shirt: SIGN UP NOW!
Perks for your Membership activation fee*:
Muddy Fox SWAG: all members will receive an exclusive Muddy Fox trucker.
You can also add a Saucony long-sleeve technical shirt for just $25 (a $55 value).
$10 of your membership will be donated to Fox Cities Greenways.
Opportunity to earn 6 different stickers as you explore! And yes—we already have plans for a set of stickers you can earn next year too!
Trails or Parks Where You Can Earn Stickers (in alpha order):
Apple Creek Trail

Buboltz Nature Preserve

Fox Valley Tech

Friendship Trail

Heesakker Park

High Cliff State Park

Loop the Lake

Mosquito Hill

Plamann Park

Bruce B. Purdy Nature Preserve

Terrell's Island

Wiowash Trail
How to Earn Your Location Stickers:
Walk or run in each location identified below.
Track your workout on a device or with a photo that identifes that location.
Post your proof of workout to Facebook or Instagram and use hashtag #MuddyFoxMember
Tag @FleetFeetFoxValley @Saucony and in your post/photo
Stop into Fleet Feet Fox Valley during normal business hours and show a Sales Associate at the register.
Do the Happy Trails dance and find a location to slap on your new sticker!
Repeat steps 1 - 6 eleven more times!!
**Benefits are subject to change as the program evolves over time.
PROGRAM SPONSOR:

MEET OUR AMBASSADOR:
Adam has been running trails for a while, but really got into it in 2018, when he worked for the DNR at Point Beach State Forest. Did you know he is also an ultra runner? We asked Adam about all things trail-related.

Why ultras? "I enjoy pushing my limits. But most of all enjoy the perspective. Life's problems seem small and easy after pushing yourself for 50+ miles in 12 hours."
Favorite race? "My first ultra was Apple Creek 50K in 2018. I want to pick that one, but honestly, I love all ultra races. The atmosphere, the community, and all those beautifully nasty smells, along with the amazing smells of an aid station. What's not to love? If you don't know, volunteer for an aid station and you too will get hooked!"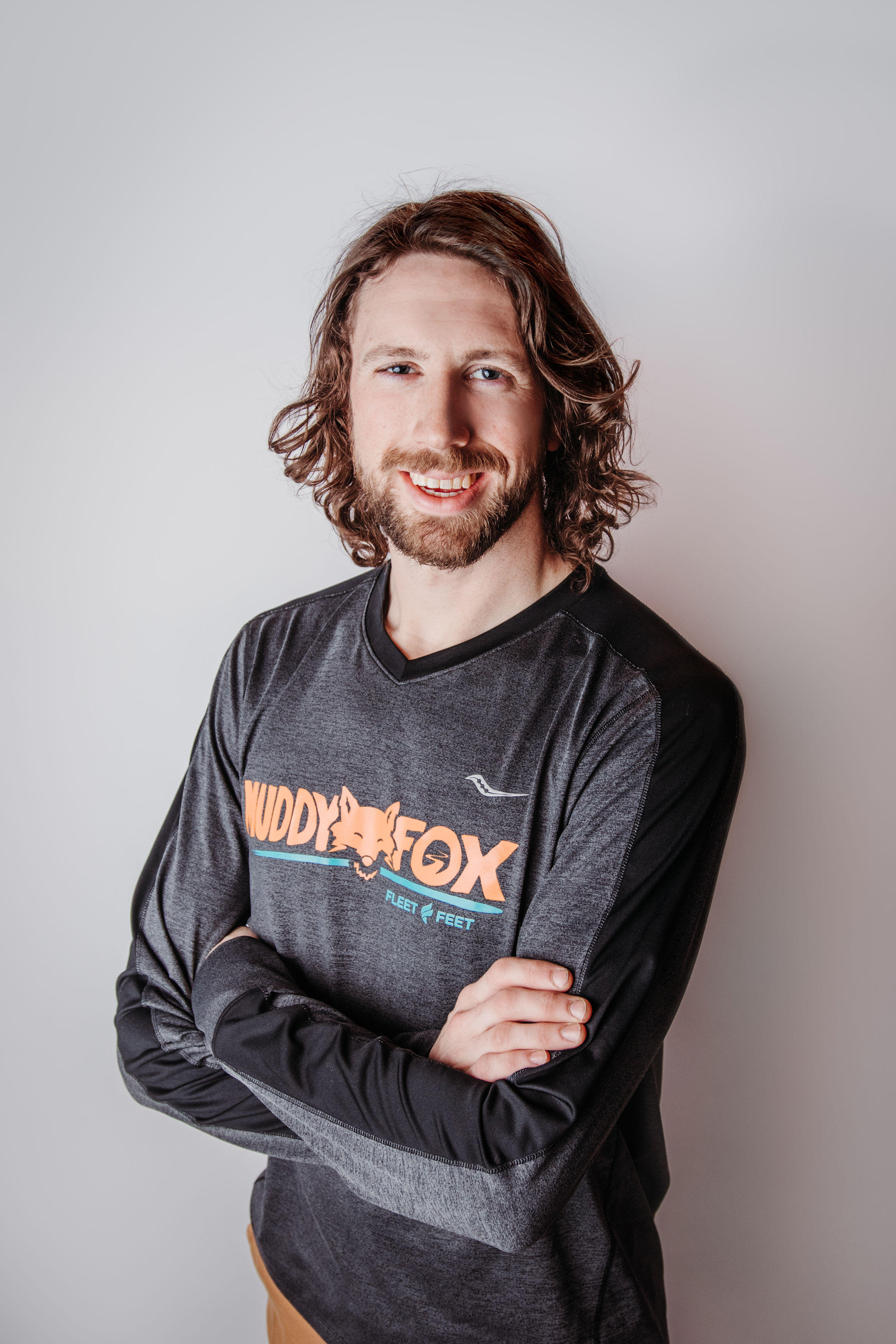 Do you have some trail advice for someone? "Not every day is going to be a good day. Everyone has those days where you just don't wanna go. It takes 30 minutes for you to just lace up your shoes. You got to stay focused and set an attainable goal: 'I'm gonna go to the end of the road.' Then go to the end of the road. Once you are there, set another goal: You can either go further, or maybe you just go home. Even if you went home, at least you went somewhere and tomorrow you can go further."

What is your must have gear on the trail? "For every day running it would be my CEP socks. I have a lot of them, and I love them. On race day, it's my salt tabs. It is a must have, or I will suffer after 20 miles."
The Muddy Fox
Program Start: Ongoing. Whenever you join us you can get started!
Program Schedule: On you own
Program Fee: $40 Membership or $65 if you want the SWEET Technical Shirt
Description: Whether you have already found your way to the amazing trails in our community or you are looking for a new challenge/something to change up your old routine, we invite you to become a MUDDY FOX!