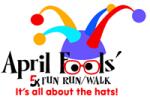 Our third and final April Fools' fun run/walk is Wednesday, March 26th at 6PM at the Orthopedic & Sports Institute, 2105 E Enterprise Ave, in Appleton
2, 3, and 4 mile routes available. ALL levels and paces welcome. Every time you attend (this is the 3rd of 3 opportunities) you will be entered into the shoe raffle.
March 26th BONUS: Come test Brooks shoes, jackets and vests and then refuel with Nuun energy drink and a sample of Bonk Breakers, both great alternatives to the many sugary-calorie filled options on the market.
You are not required to be registered for the April Fools Run/Walk (Friday, April 4th) to participate. But if you're interested in this awesome event...Click HERE