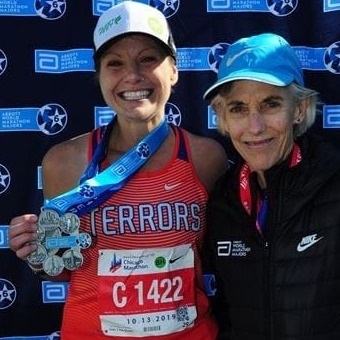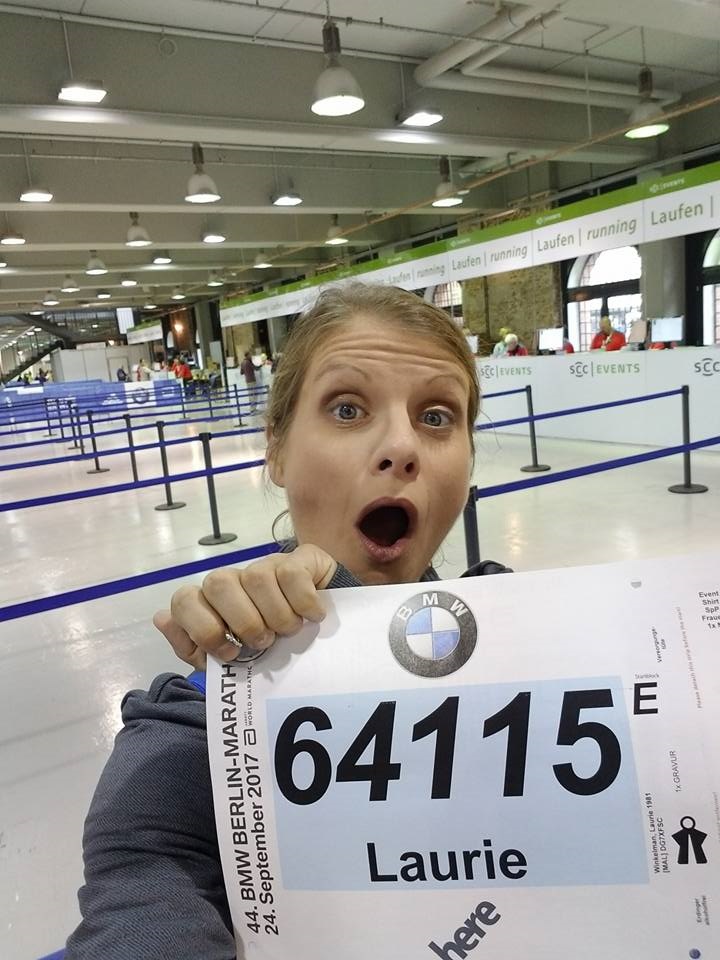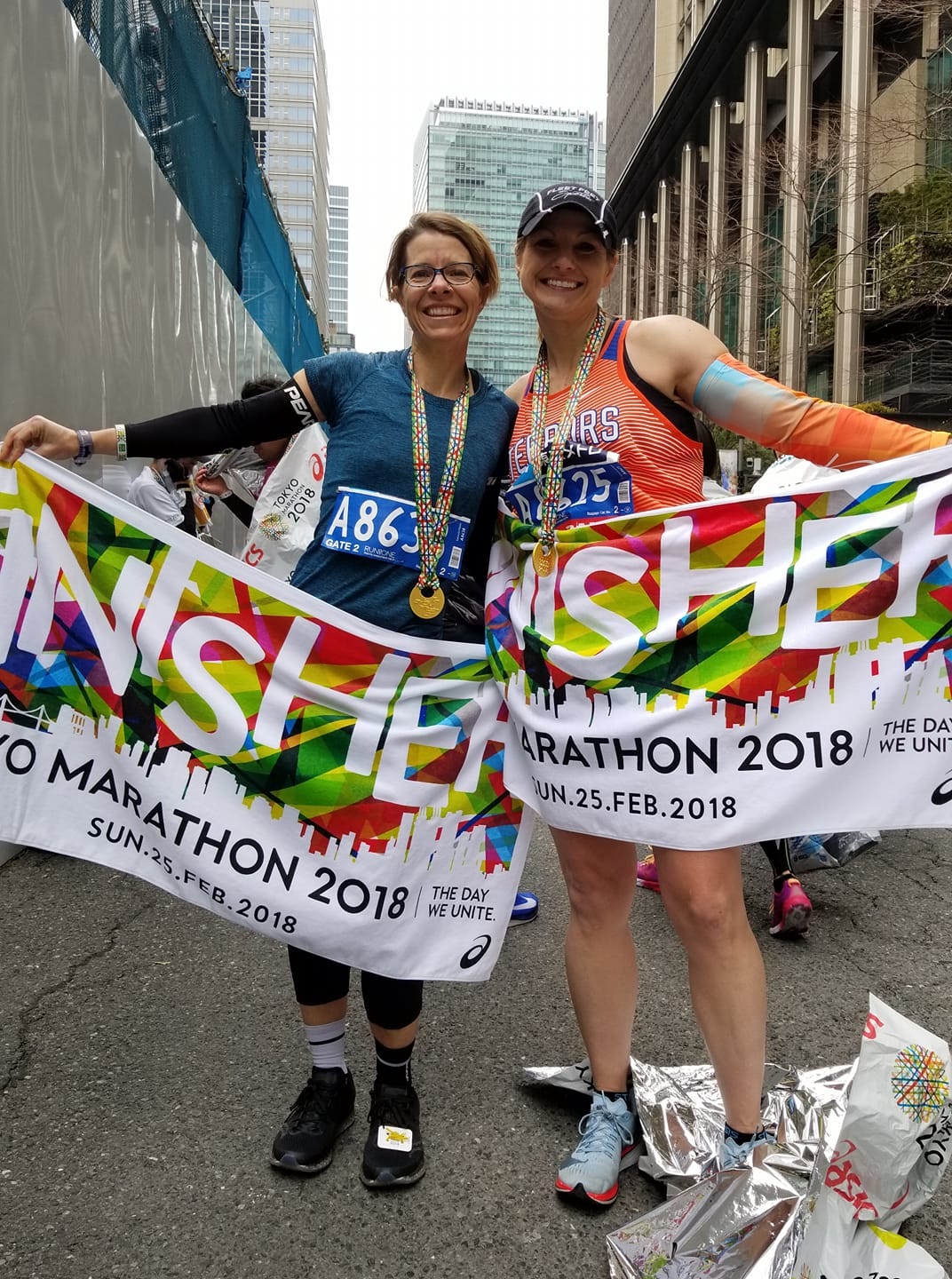 Meet Laurie, another one of our fabulous Ambassadors. She is super knowledgeable about running and is always happy to share her experiences and tips with others. But did you also know she has an amazing amount of knowledge related to the dairy industry, and more specifically, dairy cows? (A regular at our Ambassador trivia nights when we were meeting in person, she said if there was a category related to that topic, she would be a great asset!) Laurie also can be found assisting the Appleton West Cross Country team, and has been known to sport the Terrors singlet at one of the many marathons she has run!
Speaking of marathons, did you know she has run all six marathon majors? Talk about a major accomplishment! We talked with Laurie recently about that journey, and also about her time as a Fleet Feet Ambassador the past five years. Keep reading to learn more about Laurie's story!
What is your favorite part about being an Ambassador? "I enjoy representing the store at race expos or kids' fun runs. I do enjoy our previous social outings (trivia), and am eager for post-pandemic weekly runs. I like volunteering to help the store whenever there is a random request where my skill set fits!"
When you aren't out representing Fleet Feet, what can we find you doing? "Outside of athletics, the majority of my life is spent working with dairy cows. Between my job as a dairy cow nutritionist, or on my family's dairy farm, or with my hobby of showing cows; I spend A LOT of time with cows. Also, I recently started Crossfit (in November 2020) and enjoy the different style of athleticism it brings out. Oh! I also love going to concerts/music events…but there haven't been any of those lately!"
Now for the questions on the majors/running related.
How long have you been running, and how did you get started? "Well, way way back, I would go for runs before high school basketball practice. My parents only let me do one sport in high school, and I chose basketball. I tried to sneakily go out for cross country my senior year, but they shut that down pretty quickly. I've made up for that lost time.
"I really started running more around 2004 while I was in grad school at Ohio State. My older sister had completed a marathon while raising funds for Team in Training, and being competitive, I thought 'I can do that…'."
When did you run your first marathon? My first and second marathons were the Columbus Marathon (Ohio), in 2004 and 2005. I definitely didn't know what a gel was, and I wore basketball shorts in 2004 marathon. I didn't understand gastric distress until somewhere in 20-something mile of 2004. I finished in 3:49:56 in 2004 and improved to 3:46:26 in 2005.
"After 2005, there was a big gap until my next marathon. I moved to upstate New York for round two of grad school. I was having a lot of fun, and had started playing roller derby. I ran sporadically, but nothing consistent again until 2011 when I moved back to Wisconsin to begin my career. In 2012, I ran my first Boston-qualifying time at the Cowtown Marathon in Fort Worth, Texas (3:33:32), and it's been nearly non-stop since then, with more than 40 total marathons under my belt!"
When did you decide to go after the six majors? Which one was your first? "The 2013 Boston Marathon was my first Abbott World Marathon Major (WMM). I was relatively out of shape and under-trained, and did not heed ample warnings not to go out to fast. I finished in 3:58:50. Thankfully, I was about 25 minutes fast enough that day, as the first bomb went off at the finish line around 4:25 on my clock time. I've become a Boston Marathon streaker, completing the race every year since 2013. Virtual Boston in 2020 made it 8 in a row…but virtual is not the same!
"In 2016, I started traveling to faraway places to run marathons for vacation. Dublin, Ireland was my first big destination. From there, I made it a goal to run one international marathon per year! A few of my running friends applied for the 2017 Berlin Marathon lottery, and I was a lucky one and got in! So that was my 2017 international trip and WMM #2.
"During the summer of 2017, my friend Sabrina from California started digging into the process to get into the Tokyo Marathon. We both had qualifying times to apply for the "Run as One" semi-elite program, and amazingly got in! So, in February of 2018, we travelled to Tokyo and ran the race together; my 3rd WMM. In spring of 2018, I ran the Door County half marathon with a time that qualified me for guaranteed entry into the New York City Marathon for 2018. NYC was WMM #4.
"Most people in the US easily tackle the domestic Majors early in their journey, but for me, the Chicago Marathon was a bugger. It typically falls on the first weekend on October, which interferes with World Dairy Expo in Madison – an event I never miss. However, in 2019, Chicago fell on the 2nd weekend in October, so it was open for me to run. Knowing I could finish the WMM in 2019 with Chicago, I dug into getting into the 2019 London Marathon. The London Marathon lottery is notoriously difficult to win entry through, and the Marathon Tours group gave priority to longer-term customers. So, I sought out a charity entry, and raised more than $10,000 for the Crohn's and Colitis Foundation. London Marathon 2019, WMM #5. Chicago Marathon 2019, WMM #6.
"Who knew the Chicago Marathon in 2019 would be the second to last WMM run until….? I think all runners are hoping to see marathoning and the WMM return this fall, but it is so hard to know."
How long did it take you to finish all of them? "It was really only from 2017 to 2019 once I realized I could nab them all! But technically, it started in 2013 with my first Boston."
Any major obstacles to reaching your goal of completing them all? "I didn't encounter too many obstacles that I couldn't handle, but in fair warning, chasing this journey was expensive! The race entries aren't cheap, and the hotel and flight costs associated with international travel aren't for the faint of heart. I was fortunate to have 'qualifying' times for most of the races (Boston, NYC, Chicago, Tokyo), but realize many people chasing this WMM dream aren't able to qualify. Lotteries and fundraising could get exhausting if that was the only way to complete them.
It's probably hard to answer this one (like asking someone which of their children is their favorite!), but did you have a favorite major race? "The Tokyo/Japan experience was BY FAR my favorite. Not necessarily because of the marathon, but because of the ability to experience the culture for two weeks! I'm a huge fan of Boston because it has become a reunion of all of the great people I have met running over the years. Least favorite was NYC. I don't need to run those bridges again."
What are your current running goals? I'm going to try to get into the 2021 Boston Marathon (October). That will extend the streak to 9. I am also planning to travel to Hawaii for the Honolulu Marathon in December (from cancelled 2020). Right now, I'm enjoying less running and gaining strength with my journey into Crossfit for the past couple months."
Any advice out there for someone who is considering running their first marathon? Enjoy the journey, and don't go out too fast on race day. The best way to get better and faster at running is to run more and to push yourself. You'll be surprised how much your body can do, and how much your mind can hold you back if you let it."