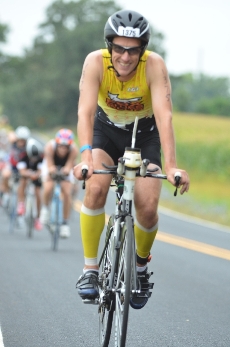 Kick off your spring training with Fleet Feet Sports Fox Valley! This year we are excited to offer a 15-week Spring Half & Full Marathon Training Program, beginning Feb. 10.
We are even more excited that Chad M. will be our coach for the program! He is enthusiastic, knowledgeable, and ready to lead our participants for a fun 15 weeks. Learn more about Chad as we countdown to the start of our program! Chad is no stranger to the Fleet Feet Family. He is a pacer for the Winter Warriors Program, and paced our Fox Cities Full & Half Marathon Training Program in 2015.
Q: How long have you been running? When did you get your start?
"I've been running for 20+ years.  I got started in high school.  I was on the track team in high school.  I thought I was a sprinter, but the coaches gradually kept putting me in longer races.  I eventually became a distance runner.  I continued on running track and cross country in college (at the University of Wisconsin-Eau Claire).  After doing 5K/10K distances for a few years after college, I began doing triathlons.  The distance gradually increased, and I did Ironman Wisconsin in 2011, and then again in 2013.  After the 2013 Ironman, I began focusing on longer distance run (marathons and soon to be 50Ks)."
Q: What do you enjoy most about pacing the Winter Warriors Program?
"With Winter Warriors, I love how excited people can be to run in the crazy conditions.  Pacer confession: Over the last 5 years, I haven't run much during the cold days of winter.  The indoor spin bike usually got more use than my running shoes during the winter.  The relationships that are built during Winter Warriors have helped me push through and run when indoor activities seem much more logical. The enthusiasm is contagious.  It's also great to see people reach new accomplishments, whether it is their longest run, fastest run, coldest run, snowiest, etc."
Q: What are you most looking forward to about coaching our Spring Full & Half Marathon Training Program?
"After pacing for the Fox Cities Marathon, I'm extremely excited for the spring marathon program. Last summer/fall, it was amazing to watch as people pushed themselves week after week as they were striving for their goals.  The people I had the opportunity to run with put in effort that far exceeded my expectations. Watching them has pushed me to put more effort into my training. With the spring marathon program, I'm excited to see a new group of people striving to reach their potential.  Each person has their own staring point and their own goals, and I'm looking forward to joining them on their journey to success." 
 Q: If you aren't out running and helping out with Fleet Feet Sports Fox Valley programs, what can we find you doing?
"Outside of the training program, I'm involved in other fitness activities. I'm the head cross country and track and field coach at Saint Mary Catholic High School (in Menasha).  I'll be starting my 11th year coaching track this spring.  Outside of work, coaching, and pacing, I spend time with my family (wife Tammy, daughters Mia 8 and Ruby 6), usually doing outdoor activities, such as sledding and snowshoeing during the winter.  During the summer, we like to hike, kayak, bike (road and mountain) and swim."
 Q: With the new year here, do you have a resolution in mind for 2016?
"I have an annual New Year's resolution of giving up chocolate.  It rarely last for more than a couple days or weeks.  (It will be really tough to hold it through the Seroogy's run.)  In 2013, I did make it to September 9 (celebrated my Ironman finish with a dozen or so chocolate chip cookies). That was the only year where I made it over a month. My main resolution for 2016 is to track my running miles.  I've gotten very sloppy the last few years and need to do a better job of tracking my training.  I tell the people I coach that they need to track their miles, but I haven't listen to myself.  For 2016, I'm looking to do a 50K.  I've signed up for 2 (Apple Creek and Mosquito Hill).  I'm also planning on making an attempt to qualify for Boston."
We are looking forward to hearing more from Chad throughout the training program! To learn all about it, click here.