The Distance Demons, sponsored by Fleet Feet Sports Fox Valley, is a youth running club with kids from several communities in n.e. Wisconsin. Four Distance Demons competed at the Cross Country Coaches National Youth Championships on December 1, 2012 in Terra Haute, Indiana. Kids ran in two-year age groups but awards were given in single year groups. All Demons chalked up PRs in some great races.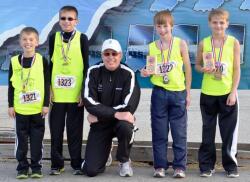 Results:
In Bantam, Ryan (10) held off a small group in the final 800 to finish 3rd overall and 3rd by age, a gutsy run in 11:18. Bennet (9) ran a great race and placed 83rd overall and 30th by age in 13:40.
In the Midget division, Drew (11) passed a couple of big guys in the homestretch and held off others to place 12th overall and 2nd by age in 10:58, smashing the 11 minute barrier! Aaron (12) ran strong and steady and placed 49th overall and 38th by age in 11:46. Everyone got cool national meet medals, national gear, and had a fun time.
The Demons will run some road races this spring and will represent the area at state and national competitions in summer. New members are always welcome!
photo left to right: Bennet, Aaron, coach Harris, Ryan, Drew