Need gifts for Easter? A birthday? Just because you miss your running buddy? We're here to help! We've put together several gear bundles that can be shipped in a fancy Manilla Envelope anywhere in the US! Buy one for yourself, buy one for someone you're thinking about, buy one because they're each a SWEET deal and we could all use a little extra joy right now!
We've pulled together some of our favorite items for you or the person you are missing right now. These will be done in grab bag fashion so when you fill out the form there will be a few questions we will use to pull your bundle together.
NEW!

Bundle 9A and Bundle 9B: Find a New Favorite! (Nutrition Bundle with or without the handheld water bottle)

**BUNDLE 9A TWO LEFT!! BUNDLE 9B SOLD OUT!!**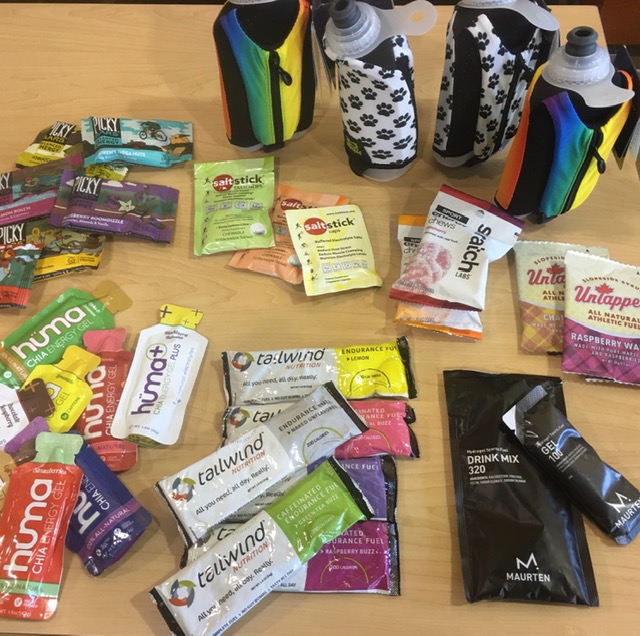 Includes: 2x Untapped waffles, 3x Picky Bars (assorted), 3x Tailwind (assorted), 3x Huma gels, 2x Skratch chews, Maurten 1x gel, 1x drink mix, Saltstick 1x chews, 1x caps Value = $49 // Cost to you = $36 + tax
9B INCLUDES: Nutrition listed above in 9A PLUS Amphipod Hydraform ergo lite 16oz. handheld water bottle Value = $76 // Cost to you = $52 + tax
NEW!

Bundle 6: You Deserve A Smile. And a Snack.

SOLD OUT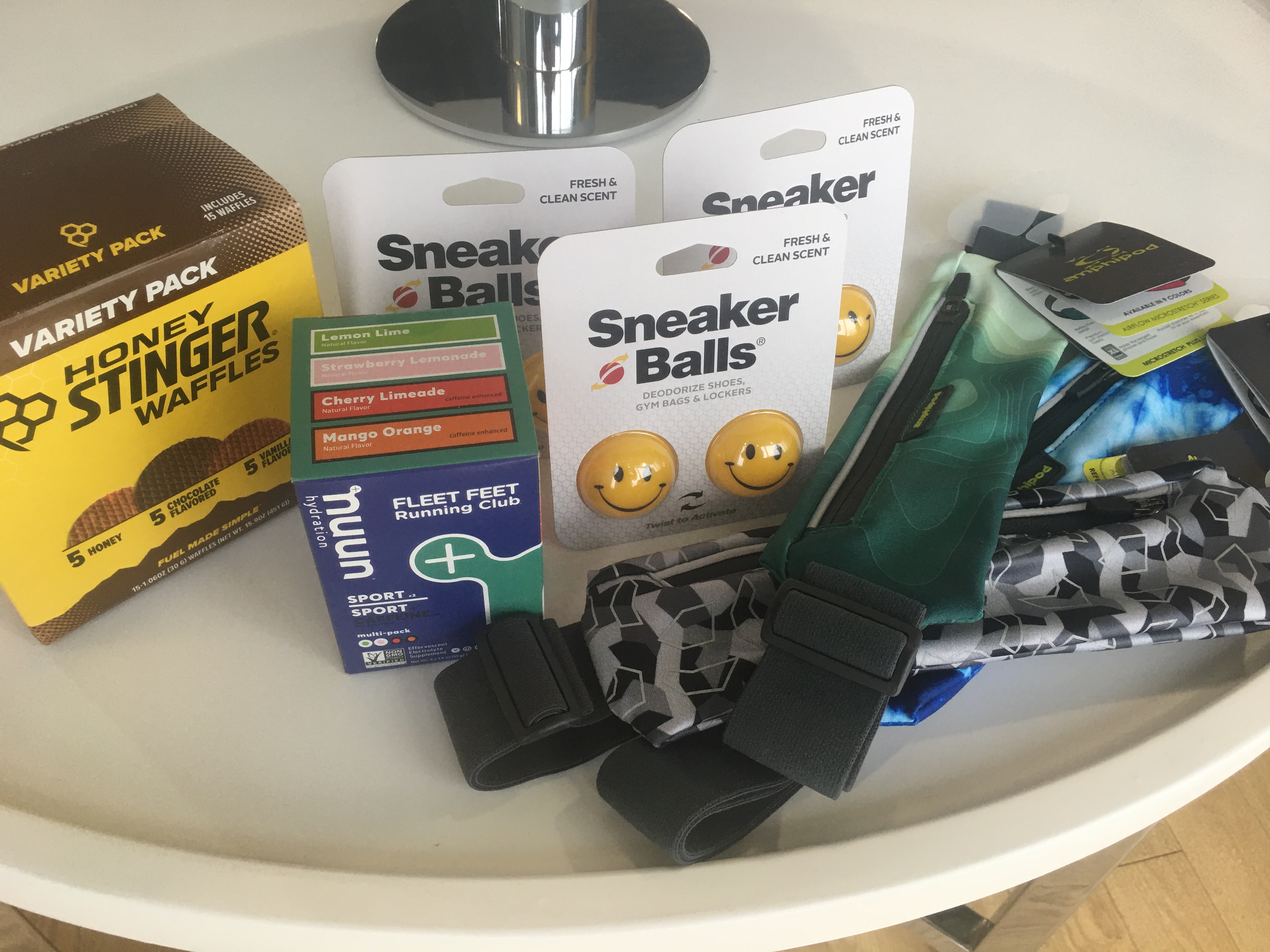 Includes: Honey Stinger Waffles variety pack (15 count), Nuun sampler (4 tops flavors), 1 pack of Smiley-face Sneaker Balls, and 1 Airflow Microstretch belt. Value = $82 // Cost to you = $65 + tax
NEW!

Bundle 7: It Stinks That It's Bean So Long!!!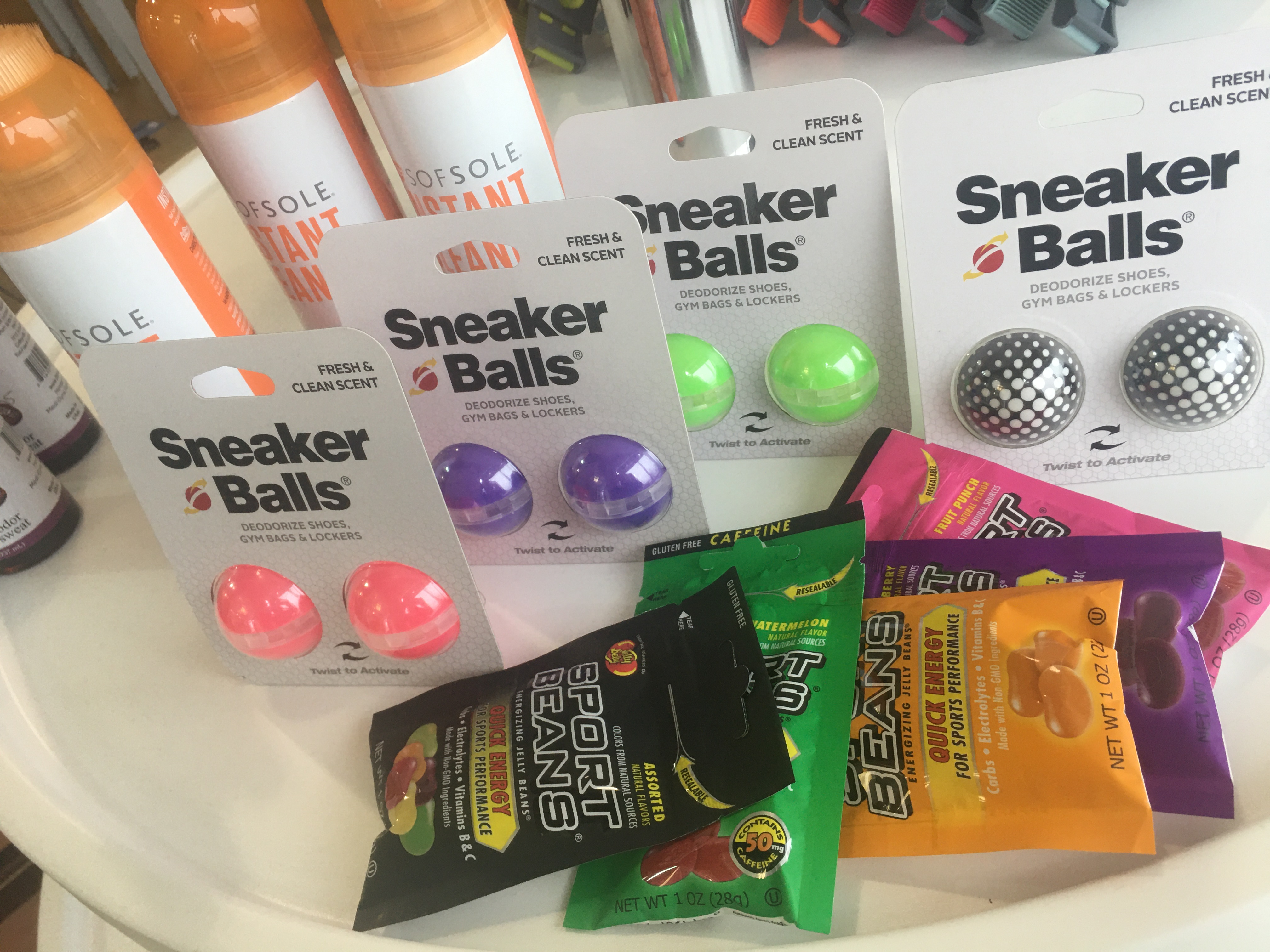 Includes: 5 bags of Sports Beans (assorted), 2 2-packs of Sneaker Balls, Shoe Cleaner foam, Stink Free spray. Value = $34 // Cost to you = $25 + tax
NEW!

Bundle 8: Not Seeing You Really Chaps My (Behind) !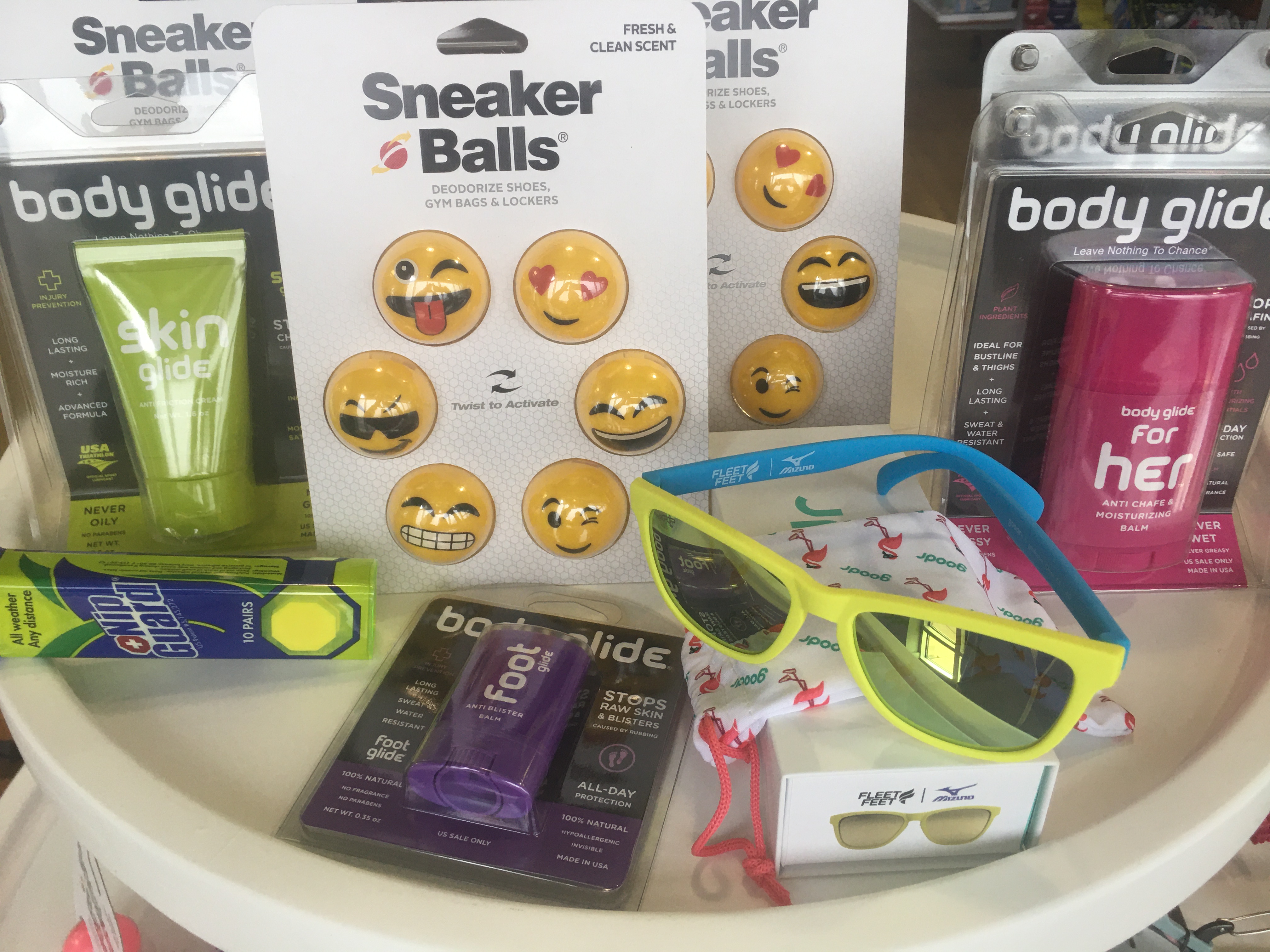 Includes: 6-pack of Emoji Sneaker Balls, Skin Glide (1.6 oz), Foot Glide (.35 oz), Glide for Her (1.5 oz), Nip Guards and a pair of Mizuno/FF-logoed limited edition Goodrs. Value = $72 // Cost to you = $50 + tax
NEW!! Bundle 4: I am STILL a DIVA!

NEW BAG COLORS AND DESIGNS!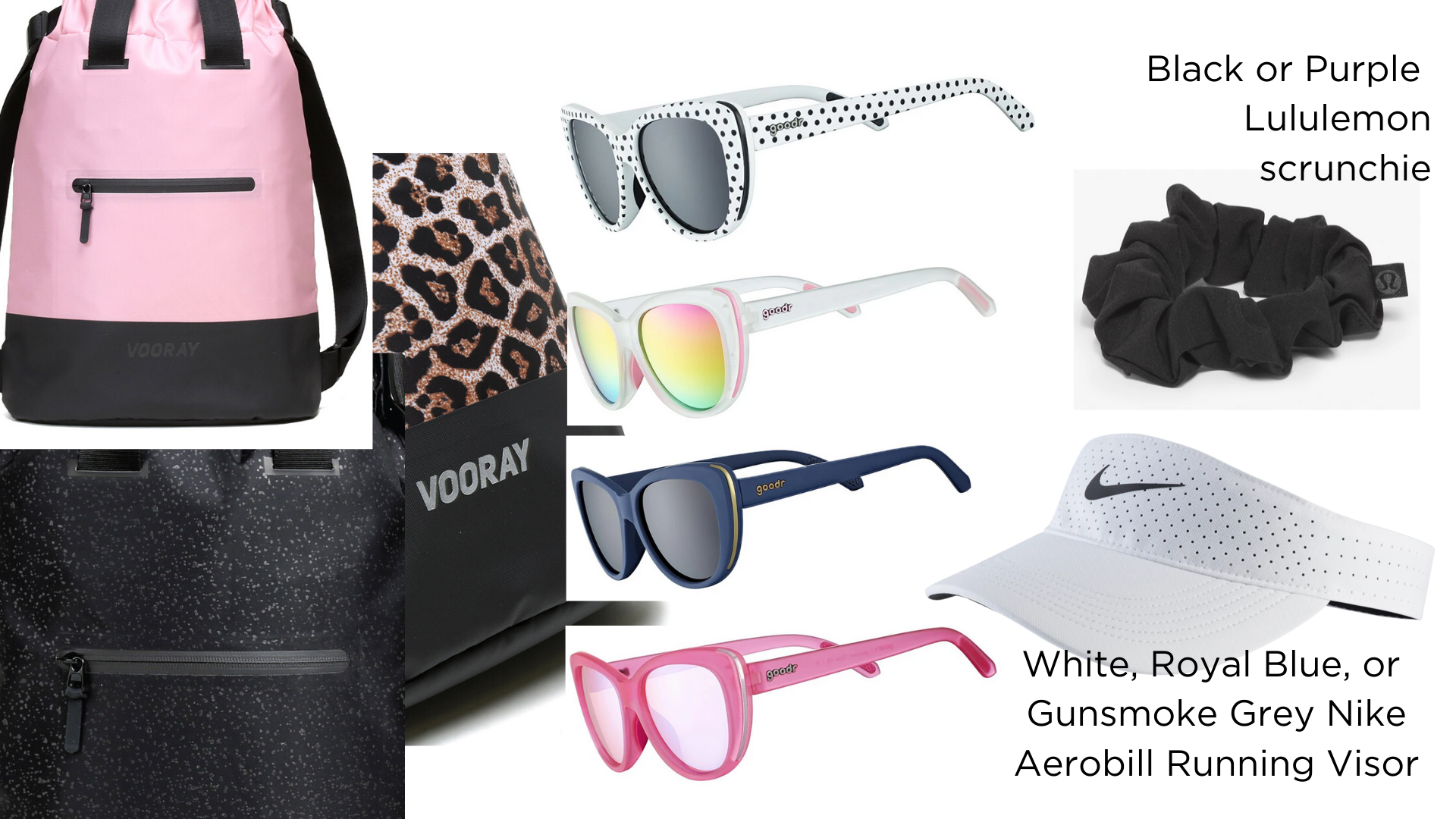 Includes: 1 Vooray Flex Cinch Backpack (from the 3 prints shown), 1 pair of Runway Goodrs (from the 4 colors shown), 1 lululemon scrunchie (either black or purple), and a Nike aerobill running visor (either white, royal blue, or gunsmoke grey). Value = $110 // Cost To You = $75 + tax
NEW!! Bundle 5: Eat, Drink, and Be Sweaty!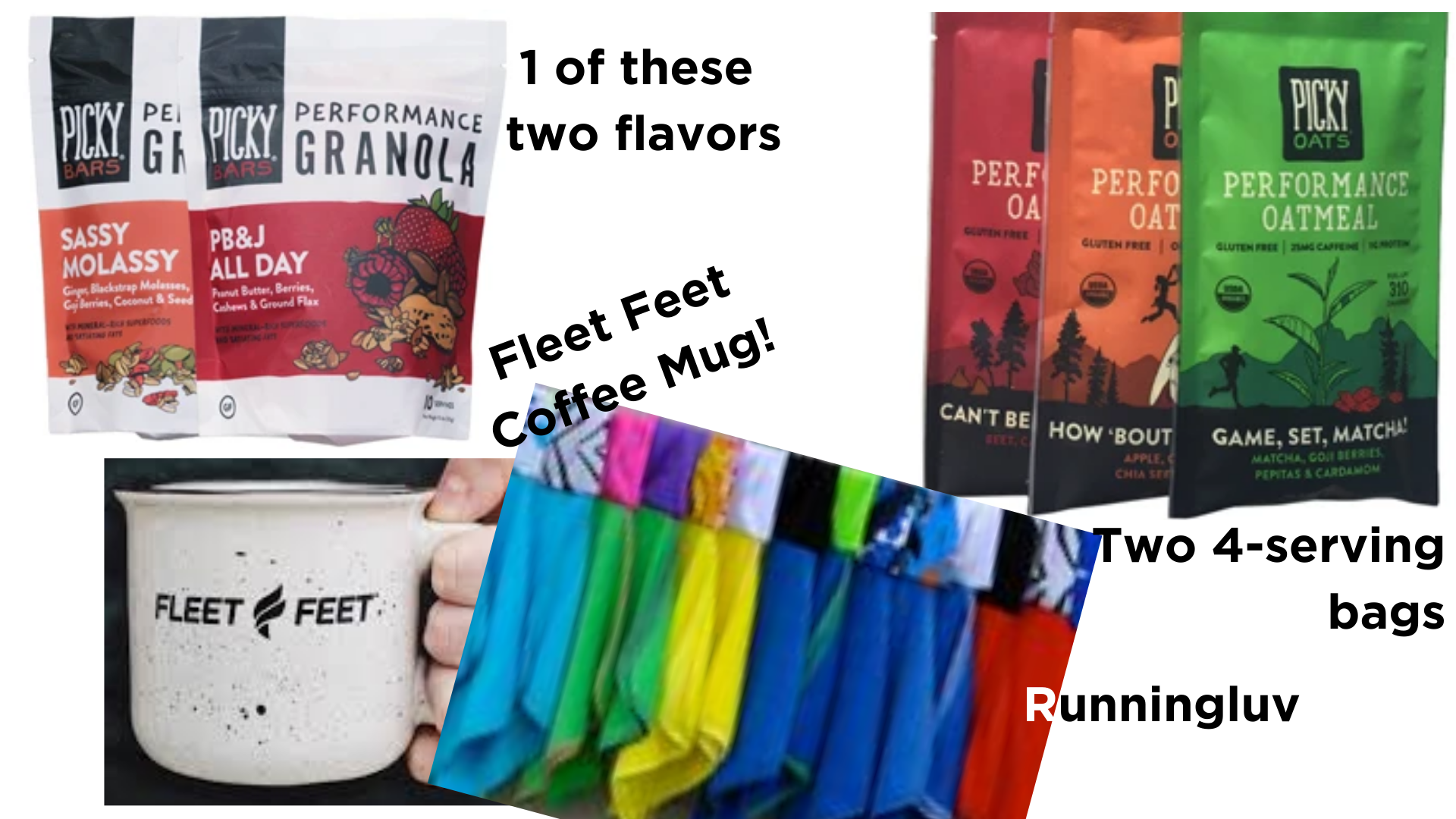 Includes: 1 bag of Picky Oats granola (one of two flavors shown), 2 4-serving bags of picky oats oatmeal (two different flavors from selections shown), 1 Runningluv (to wipe your mouth, then your sweat on a run), and 1 ceramic Fleet Feet Coffee Mug. Value = $60 // Cost To You = $38 + tax
(check out Runningluv. Catch what runs.)
Bundle 1: Momma Needs A Little Somethin' **SOLD OUT!! **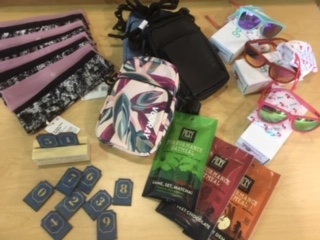 Includes: 1 pair of Goodrs, 1 Vooray Core Cross Body, 1 packet of Picky Oats oatmeal, 1 lululemon headband, and a fun wooden race (or end of home schooling) countdown tracker. Value = $65 // Cost To You = $50 + tax
Bundle 2: Might As Well Try Something New (nutrition bundle) **SOLD OUT**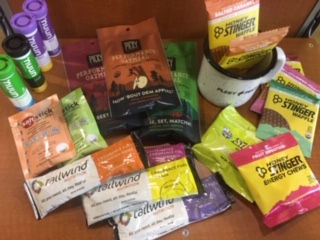 Includes: 3 x bottles Nuun (Vitamins and Rest formulations), 3 x Honey Stinger Waffles, 2 x Picky Oats Oatmeal, 2 x Honey Stinger Chews, 1 x Saltstick Fast Chews, 2 x double serving Tailwind Nutrition, and 1 ceramic Fleet Feet Coffee Mug. Value = $50 // Cost To You = $38 + tax
Bundle 3a and Bundle 3b: Miss You, Friend! (Primary and Pinks/Purples color options)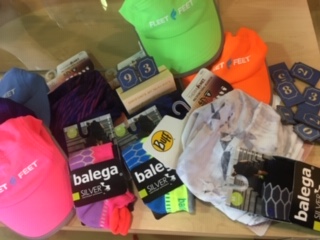 Includes: 1 pair Balega Silver antimicrobial socks, 1 Headsweats performance Running Hat, Buff ThermaNet multifunctional headwear, and a fun wooden race (or end of home schooling) countdown tracker. Value = $70 // Cost To You = $54 + tax