Veteran's Day Event to be held at Two EE's Winery November 11, 2014 at 12:00 Noon
Public invited to attend Veteran's Day event at Two EE's Winery, 6808 Highway 24, Huntington, IN 46750. Vineyard Trail 5k check to Veteran's Charity " Our Turn To Serve" will be presented at 12:00 Noon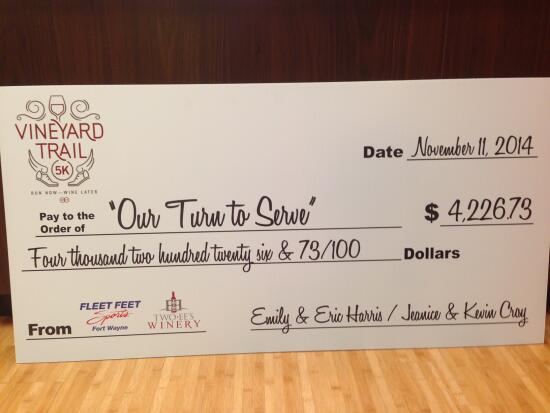 Tuesday, November 11, 2014, Two EE's Winery along with Fleet Feet Sports will commemorate Veteran's Day with a special event. The Veteran's Day event will be held at 12:00 Noon at the winery location 6808 Highway 24, Huntington, IN 46750. At that time a check presentation will be made to the Veteran's Charity "Our Turn To Serve"  from proceeds & donations raised at the 1st annual Vineyard Trail 5k race that took place at Two EE's Winery on October 4, 2014.
Race and Charity organizers along with several Military Veterans will be on hand to present and receive the check. Affine Food Truck & Catering will be serving refreshments for this event.
Sponsors and race participants will be recognized for their charitable donation. The public is invited to attend this very special event recognizing our Military Veterans.
Our Turn to Serve is a family run Charity that helps and assists Indiana Veterans with Combat related injuries and afflictions.  Their mission is to assist combat disabled veterans who have needs resulting from their disability. friends affected by the tragedy.

On Tuesday, April 15th, exactly one year after the tragedy, Fleet Feet Sports Fort Wayne is hosting a gathering for all greater Fort Wayne runners to ban together as a community and show their continued support for Boston.

We ask that you please wear blue or yellow to honor the victims of this tragedy!

LOCATION: Fleet Feet Sports Fort Wayne
5661 Coventry Lane, Fort Wayne, Indiana 46804

COURSE: We will do a 3 or 6 mile run through Lutheran Hospital/Medical campus and along the Greenway Towpath, running our first mile in silence to honor the victims of l