What is a beginner walking program?
Many people underestimate the value of a vigorous walk geared toward increasing your fitness level. Walking can be an amazing workout. Our beginning program is designed to provide a safe, encouraging, and challenging way to increase your fitness level using the low-impact sport of walking. We train in a group setting, and our expert coaches and supportive mentors guide your every step. We provide instruction on proper hydration, nutrition, and stretching techniques that help you get the most out of your workout. Most importantly, we help you achieve your fitness goals by using good form walking techniques and a consistent workout routine.
Is the WalkFIT beginner program right for me?
Everyone has a goal, unique to their life and personality. Many people join our WalkFIT program to achieve their goals related to health and wellness. Some of our participants want to lose weight and get fit. Others, with approval from their doctor, want to recover from an illness or surgery. Some join because running is just not for them but they want help doing a workout routine that helps them prepare for a 5K. Regardless of the goal, our participants enjoy the coaching, mentoring, and group setting that helps you stay motivated and on course. If you are looking to improve your health & wellbeing, lose weight, get fit, or cross the finish line of your first 5K, then WalkFIT is for you. 
Important Dates:
Information Session: Wednesday, April 25th and May 2nd at 6:30 pm at Fleet Feet Fort Wayne
Season Starts: Thursday, May 10th at 6:30 pm 
Season Logistics: Thursdays at 6:30 pm and Saturday Mornings at 8 am at Fleet Feet Fort Wayne
Goal Race: Runners On Parade on July 14th, 2018
Everyone who completes this program (attends 75% of the group workouts) will earn a special Fleet Feet Running Club Walk Fit patch (see below)! We are excited for all the fun 2018 will bring us!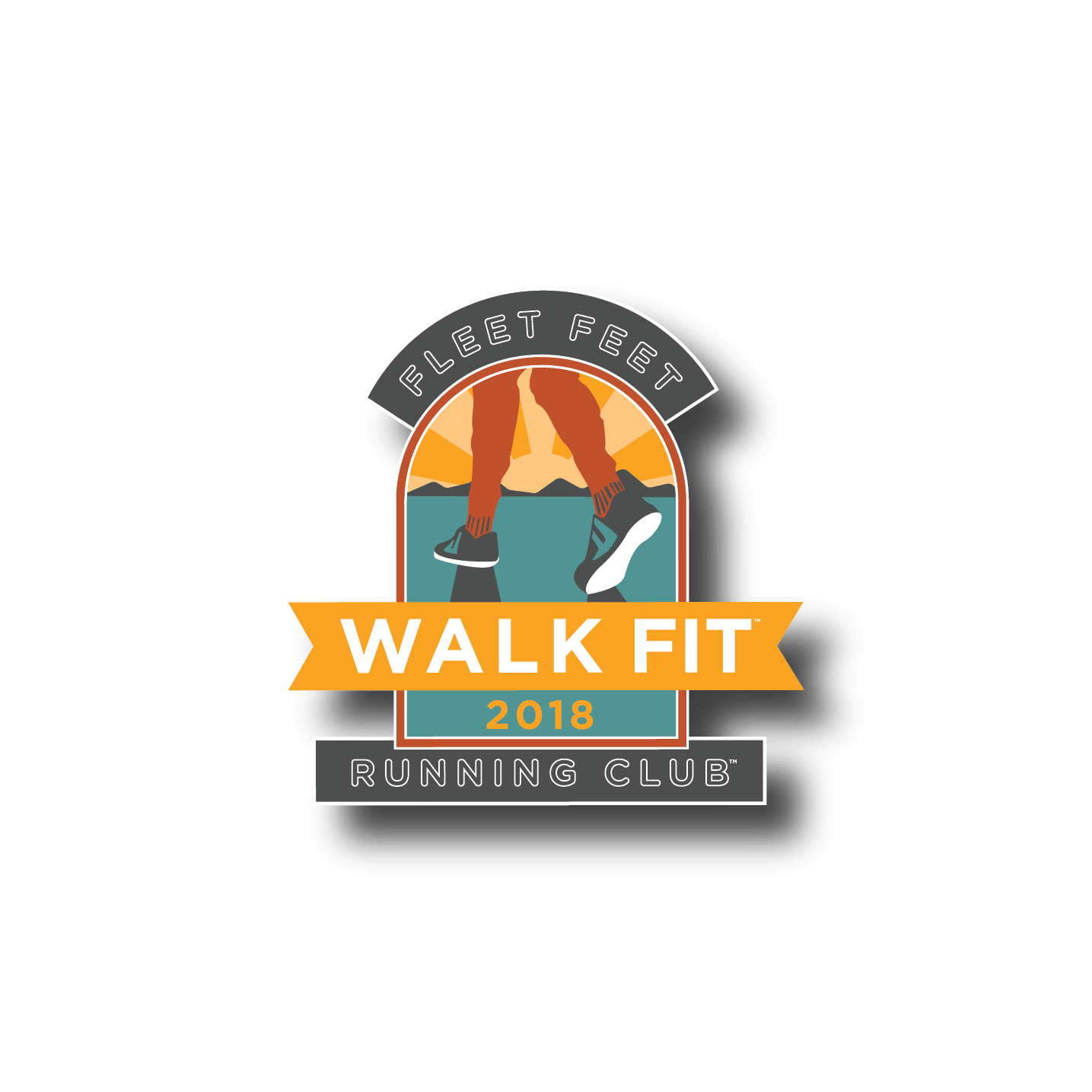 What to expect at our Workouts:
Each week will have a slightly different focus - breathing, form, nutrition, etc. Below is an example workout and how our weekly topics are discussed during the training:
Welcome/Announcements
Weekly Topic (Nutrition Sampling, Product Demonstration, etc.)
Find your pace groups
Group Dynamic Warmup
Prescribed route for the day - you'll have turn by turn directions if necessary and mentors leading your group
Optional Cool down stretching with your group
Sometimes we'll hold a clinic following the workout, if we don't do it before.
What is included in the program?
Access to expert coaching and encouraging mentors
A training plan that also includes workouts for the days you do not have a group workout
Weekly newsletters going over the week's workouts and focus
Info sessions including but not limited to foam rolling, nutrition, etc.
Access to a closed Facebook group to interact with the other participants and coaches
Special store discounts just for Fleet Feet Running Club members
A Fleet Feet Running Club shirt
Have questions? Reach out to Kevin, our training program coordinator, at kevin@fleetfeetfortwayne.com
Program Start: Thursday, May 10th, at 6:30 PM
Program Schedule: Thursdays and Saturdays through July 14th, 2018
Program Fee: $50
Description: Let us help you get started! We know that not everyone is interested in running, that is why we are happy to offer you Walk FIT at Fleet Feet Sports.