From Couch to 5k to Half Marathon and some day completing a Marathon in Paris, France with her son. How one local Fort Wayne resident is turning her running dreams into reality! Claudia Estrada is one step closer to achieving a lifetime goal, after completing the Fort 4 Fitness Half Marathon course.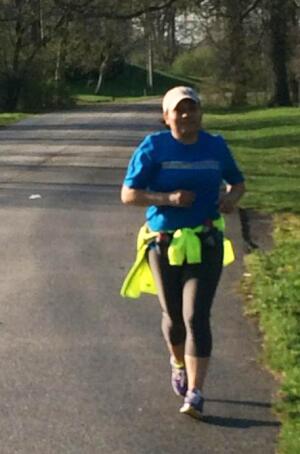 (FORT WAYNE, Ind.) May 20, 2014 – One year ago Claudia Estrada, who works for the Square D Corp. in Huntington, was sitting on her couch with her son Hugo discussing how it would be amazing if they could someday run the Paris Marathon in France together. You see the company she works for is owned by a firm based in France. They sponsor the Paris Marathon and will help pay the marathon entry fee to any associate who works for them.
Although not a runner, Claudia was determined to make this dream a reality so she signed both her and her son up for a Beginning 5K Training program called No Boundaries. She and her son completed the course and ran the Gingerbread Pursuit, their first 5K race. Although the conditions for the race were adverse, with a race day snow storm kicking off what would be one of the worse winters in decades, this did not deter her or her son. While others may have stayed home next to a warm fire, they stuck it out and completed the 5k course with smiles from ear to ear. Both Claudia and Hugo kept up their training throughout the winter joining the very tough Winter Warrior program.
It was after this that both Hugo and Claudia made the leap of faith towards their dream. Hugo signed up for the school track team and Claudia signed up for Half Marathon training. This was despite the fact that she had not registered to run a half marathon race. Both her and Hugo were determined to see the dream through to the end. Even if that meant going through all of the weeks training and preparation of training for a half marathon without reaping the reward of actually running the race and receiving a medal.
Claudia continued to train with the rest of the half marathon group, who all had goal races that they were striving towards. Through the cold, the wind, the rain & snow, Claudia consistently put in the miles even though she knew her dream race was months if not years away unlike the rest who only had a few weeks to receive their reward.
The day came, May 3, 2014, most of her training group had set off to go run the Indy Mini Race in Indianapolis, some the Flying Pig Half Marathon in Cincinnati and one went as far as Vancouver to run her Half Marathon. All the while Claudia, stayed home, content that she had trained her best and that her dream race will have to wait, but consoled herself that she was getting closer to Paris. It was decided, by two of her coaches, (Ryan Walters & Matt Winterrowd) that on the day of the Indy Mini Half Marathon, they would take Claudia out, for one last run, on the Fort 4 Fitness Half Marathon course. Little did Claudia know but a surprise had been arranged by several admiring fellow runners. Coach Ryan Walters had arranged with Fort Wayne TinCaps Minor League Baseball events coordinator & No Boundaries mentor, Abby Naas to open the stadium so Claudia could have a Stadium finish just like in the actual Fort 4 Fitness race in the fall. In addition, with the help of Jamie Frasier another No Boundaries Mentor and Fort 4 Fitness CEO Brad Kimmel, Ryan was also able to arrange 2013 Fort 4 Fitness finishers medal, race shirt, water bottle and tote bag.
As Claudia neared the end of her 13.1 mile run with her coaches, she saw the stadium and began to stop running, knowing ,in her mind, that the stadium would not be open and that her run was complete. She thought to herself I will go home now, nurse my tired muscles and await to hear the final results of her fellow runners running the Indy Mini that day. It was at that point coach Ryan and Matt looked at her and said "What are you doing?", "the race is not over Claudia!" , "You have to cross the finish line!" At that moment she saw the gates were open, ballpark grounds keepers and staff stopped what they were doing just long enough to recognize Claudia's achievement. With tears in her eyes she ran on to the field to complete the race she had started many weeks ago touching home plate. Five days later at the Fleet Feet Store, as all of the other runners were showing off their medals, and sharing their stories of achievement, Claudia received her second surprise, her own Fort 4 Fitness Medal. She was speechless with emotion. After completing the Fort 4 Fitness course, Claudia now realizes, what was once just a dream for her, is now one step closer to becoming reality. "Look out Paris", here comes Claudia, nothing can stop her now!
ABOUT FLEET FEET SPORTS FORT WAYNE Fleet Feet Sports Fort Wayne specializes in walking, running and fitness gear, and training. The new store is due to open in early August 2013 and is located at The Village of Coventry Shopping Center at 5661 Coventry Lane. The store's missions are to inspire, engage and motivate our community to dedicate themselves to a healthy and fit lifestyle. Kevin discovered his passion for running later in life after arriving to Fort Wayne, Ind., and participating in several running events. Since then Jeanice has also become an avid walker. Kevin and Jeanice Croy welcome everyone of all abilities and backgrounds with a passion for good health to visit Fleet Feet Sports Fort Wayne to fulfill their fitness needs. Call (260) 432-3270 for information on the grand opening, store hours and event listings.
ABOUT FLEET FEET SPORTS Fleet Feet Sports began as a single store in Sacramento, Calif., in 1976. The company has since grown to include a successful network of stores with more than 100 locally owned and operated Fleet Feet Sports franchises across the United States, including the Fleet Feet Sports store in Fort Wayne, Ind. Fleet Feet Sports carries footwear, apparel and accessories for running, walking and fitness enthusiasts of all ages and levels. Knowledgeable staff members have the expertise to assist customers with fitness-related questions, and they will help every customer find the right "FIT" for their active lifestyle. In addition to being a community resource, Fleet Feet Sports functions as a gathering place for area runners and walkers through the offering of educational seminars, training programs and race information.