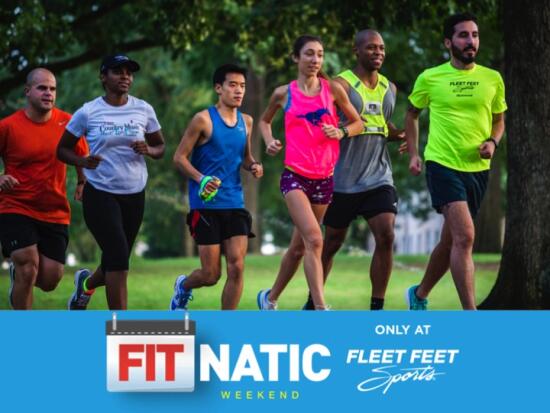 Join us for our Fitnatic Weekend: Friday, November 28 - Sunday, November 30!
We will have a long list of things to do during the last weekend of November including the information below with more to come!


1st Annual Pancake Run: Saturday, November 29, 8 a.m.
Enjoy a 5 mile run with us along Towpath Trails! Afterwards, there will be a Pancake Flip Sprint! Participants will sprint 100 yards flipping pancakes in skillets for prizes. This event is open to the Public! We will all enjoy a free pancake breakfast plus toppings and juice or coffee. RSVP on Facebook!
Chilly-Chili Run & Shop: Friday, November 28, 2 p.m.
Stop by for a complimentary bowl of homemade chili, and shop our Fitnatic Specials! If you are so inclined, bring a change of clothes and join us for a fun social run! RSVP on Facebook! 
Great deals, events, and opportunities during Fitnatic Weekend:
Addaday Massage Station, Addaday Demo & Massages Nov. 28 - Nov. 30.
Free Gift Wrapping, Nov. 28 - Nov. 30.
Taste Testing Nutrition Table - Taste Samples of Gu, Chomps, Nuun etc. For Free Nov. 28 - Nov. 30
Hot Chocolate/Coffee Bar all three mornings Nov. 28 - Nov. 30.
Fleet Feet Sports Training Information Table Nov. 28 - Nov. 30. 
No Boundaries Couch to 5K, Half Marathon, 10K Training, Ton of Fun Training Programs, Special Fitnatic Incentives for signing up early. For you…. Or a Special Holiday Gift for a friends or family.
Special Extended Hours all Weekend Long 8am - 7pm Friday, Saturday, 10am - 6pm Sunday
Gently Used Shoe Donation to M.O.R.E. Foundation or Canned Food Donation and receive Fleet Feet Bounce Back Bucks!
Raffle tickets given away for every $100 spent, daily drawing for Free Fleet Feet Training Program & Tech Shirt $85 value, Grand Prize Drawing for Free Pair of Shoes $120 - $160 value
Special Offers & Deals:
Buy $100 Fleet Feet Sports Gift Card get $20 Gift Certificate for free.
Candy Cane Coupon Tree: For Every $50 spent you can pick a special Candy Cane off the Christmas Tree attached will be a coupon for $1 - $10 off which can be redeemed during the month of December
Bring in your Bib from either "Galloping Gobbler Thanksgiving  Race" or "The Turkey Trot Race" and get $5.00 off for every $50 spent*
Select/Updated Shoes only $89.00
Balega Socks Buy 3 pair get 1 pair free
Feetures Socks Buy 3 pair get 1 pair free
Get a Free Stocking Stuffer Addaday Marble Roller ($25 value) when you buy two Addaday Massage Roller Products
30% off all Gu Nutrition Products
Garmin Forerunner 10 GPS Sport Watch Special Offer only $99** (originally $130, while supplies last)
Garmin Vivofit Fitness Band (w/o Heartrate) Special Offer only $99 (originally $130)
Garmin Vivofit w/Heartrate Special Offer $129 (originally $170)
Garmin Forerunner 15 (w/o Heartrate) Special Offer only $140 (originally $170)
Garmin Forerunner 15 (w/Heartrate) Special Offer $170 (originally $200)
Limited Edition Brooks "Ugly Christmas Sweater" Run Happy Long Sleeve Tech Shi/Users/DWD/Downloadsrt available while supplies last, be the first get one!
Fleet Feet Tech Shirts only $8 ($20 value) for Fitnatic Weekend only! Great stocking stuffer!
20% off All CEP Compression Socks Nov. 24 - Dec. 24