Our 10K: FAST Training Program is designed to further runners and run/walkers towards their fitness and running goals. It will include an education on different training techniques and tools in order to further enjoy running and improve performance. There are occasional clinics covering a wide range of topical issues on running, health, wellness and nutrition from the area's leading experts. The workouts will last about an hour to an hour and a half as we increase mileage throughout the season. In addition to the workouts there are educational clinics and newsletters keeping you up to date, and expert coaching/mentoring to help inspire and motivate you on this training journey. The 10K: FAST program is focused on participants that are looking to improve their 10K time, it is open to all levels of runners or walkers who have completed at least one 10K.
Important Dates:
Information Session: Wednesday, April 25th and May 2nd at 6:30 pm at Fleet Feet Fort Wayne
Season Starts: Thursday, May 10th at 6:30 pm 
Season Logistics: Thursdays at 6:30 pm and Saturday Mornings at 8 am at Fleet Feet Fort Wayne
Goal Race: Joseph Decuis 10K on July 28th, 2018
Everyone who completes this program (attends 75% of the group workouts) will earn a special Fleet Feet Running Club 10K: FINISH patch (see below)! We are excited for all the fun 2018 will bring us!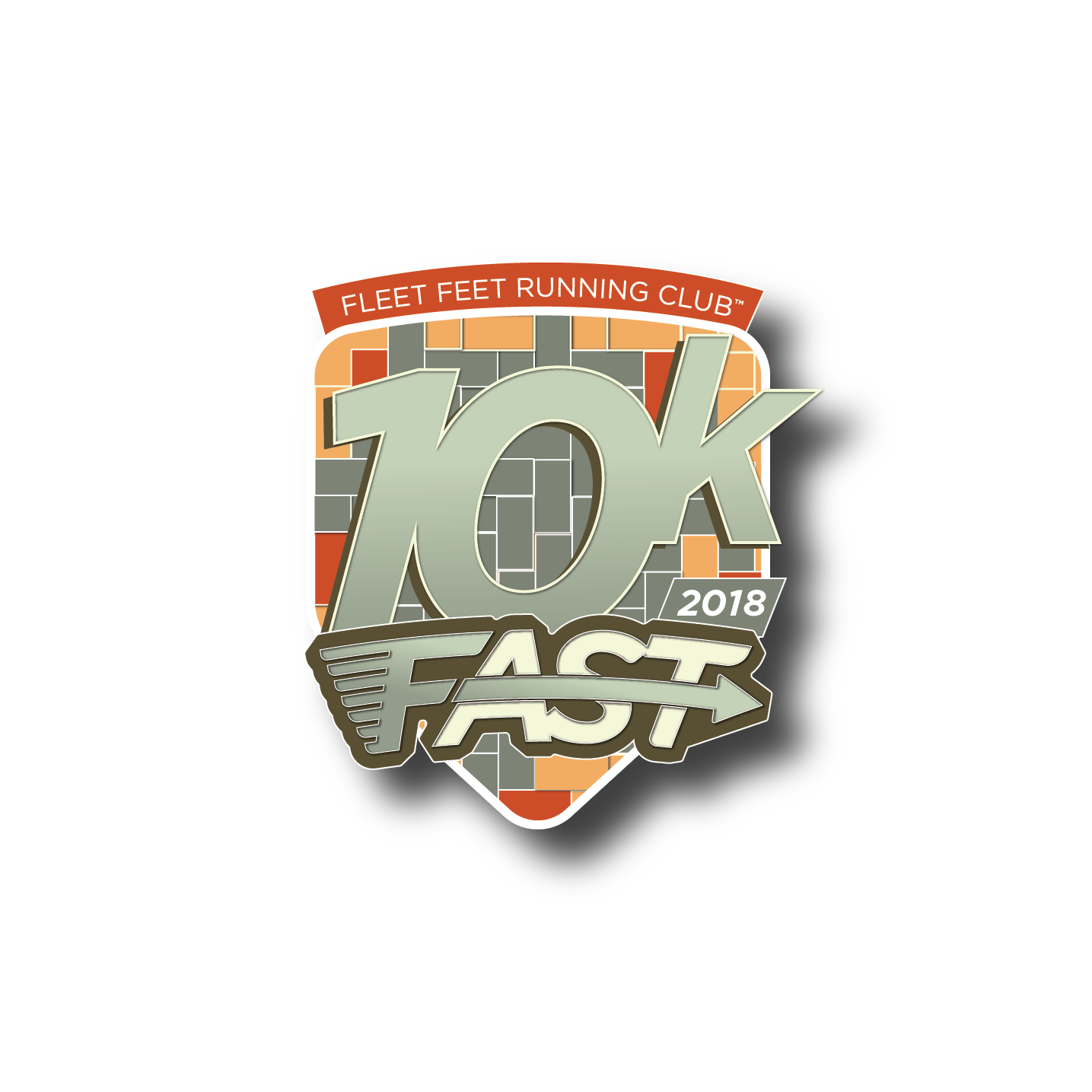 What to expect at Weeknight Workouts:
The focus of the weeknight workouts is to work on our speed and power when running. When you're looking to improve your finish time for a distance race- building a speed workout into your training is important. You work different muscle groups (fast twitch vs. slow twitch muscles), build endurance in your legs and lungs, and it helps keep our workouts from getting stale. We'll cover a variety of workouts such as Speed Repeats, Hill Repeats, Fartleks (Swedish for 'speed play'), tempo runs, etc. We focus on pace and effort during these workouts. Below is an example workout:
Welcome/Announcements/Find your pace groups
10 min Warmup Easy Jogging
Hill Repeat workout: on a steep hill we'll do bursts of a hard effort - 15 seconds (4 times), 30 seconds (4 times), 60 seconds (4 times). You will run your hard effort and walk or jog back down the hill.
5 Min Cool down jog
Optional Cool down stretching/core with your group
Overall, you'll have done ~2-3 miles that night, but with recovery included in the workout.
What to expect at Saturday Long Runs:
The Saturday Long run focus is on time on your feet. We use the long run to build up our endurance so that we can finish our distance races healthy and happy! Overall, these long runs should be at a very easy pace. We don't want to race through the long runs because it will ultimately come to us feeling like we've 'raced' every weekend - our bodies will be tired and it increases the likelihood of injury. You can expect your Mentors to lead the way and help set the pace. These long runs are fully supported with a Key Drop at the store, Water and Nuun (electrolyte drink) stops on the course, turn-by-turn directions, and access to your Coaches for questions, advice, etc. We're also going to have opportunities to run portions of the course so that we'll be ready on race day!
Pace Groups:
Our groups are open to anyone! Yes, anyone. Your coaches will help give you suggested training paces once in your group! A general breakdown of our groups are as follows:
Below 7:00
7:00 - 8:00
8:00 - 9:00
9:00 - 10:00 training pace
10:00 - 11:00 training pace
11:00 - 12:00 training pace
12:00 - 13:00 training pace (Run/Walk Interval Group)
13:00 - 15:00 training pace (Run/Walk Interval Group)
We recommend coming into the training having previously completed a 10K, if you've never completed a 10K we recommend starting with our 10K: FINISH Training. 
What is included in the program?
Access to expert coaching and encouraging mentors
A training plan that also includes workouts for the days you do not have a group workout
Weekly newsletters going over the week's workouts and focus
Info sessions including but not limited to good form, foam rolling, nutrition, etc.
Access to a closed Facebook group to interact with the other participants and coaches
Special store discounts just for Fleet Feet Running Club members
A Fleet Feet Running Club shirt
Have questions? Reach out to Kevin, our training program coordinator, at kevin@fleetfeetfortwayne.com