Fleet Feet Sports Couple's Apparel Sale is from May 7th - June 7th! Buy one piece of women's apparel and one piece of men's apparel and receive 20% off your apparel purchase!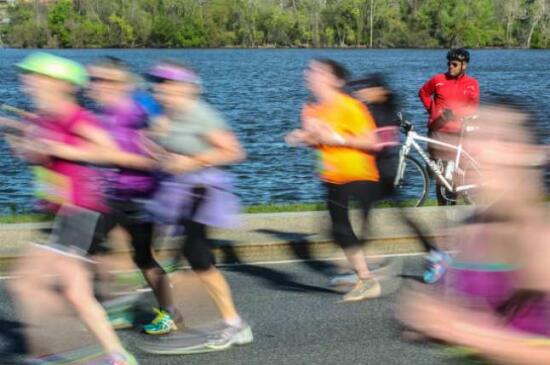 The good news: running in the summertime requires less clothing and gear than winter and fall. The bad news: heat and humidity can make the endeavor extremely uncomfortable.
Related: 5 Tips for Running in Heat and Humidity: The hot summer sun and thick, sticky air can turn even the easiest of running workouts into an all-out sweat fest, but investing in and using the right apparel and accessories can help make the experience more bearable.
What you feel most comfortable running in (no matter what the temperature is outside) is totally preferential, but you can use the following list as a guideline. These essential items will help keep you cool and comfortable while running in the summer.
Tops: Look for items that are loose and light. Many shirts are now made with special air vents to increase airflow. And moisture-wicking material is a must!
For women: Start with a moisture-wicking sports bra like the Moving Comfort Sports Bra. On extra hot days that alone might be enough (just remember use more sunscreen like Sun Bum), but if you prefer to cover up a loose fitting, moisture-wicking tank top like The Mizuno Moisture Management Mesh Tank will help keep you cool and dry.
For men: If you opt for a top, try something loose that's made with moisture-wicking fabric like the Adidas Climachill. If you prefer to run without one, make sure you use plenty of extra sunscreen.
Shorts: Summer is the time when you can finally let your legs free!
For women: Go with a pair that is light, loose and made of moisture-wicking material. Try something like Brooks Epihany Stretch Short III, which include a built-in liner (aka underwear) and a wide waistband for extra comfort. You can also try a running skirt, which some will find is more comfortable because of extra airflow. Try one like Brooks Versatile Skort.
For men: Try a pair like the Nike  2-in-1 short. With built-in boxer briefs, 4-way stretch moisture-wicking fabric, a plush elastic waistband and a zippered secret back pocket they perfectly combine comfort and convenience.
Socks: No one likes wearing socks in the summer, but the right pair for running will keep your feet dry, cool and blister free. Look for socks that are made of moisture-wicking material (are you starting to see a pattern here?) and that are designed to keep your feet from overheating.
For women and men: Try something like Feetures sock, or  for extra cushioning the Balega Socks
Sunglasses: An often forgotten piece of running apparel, sunglasses will not only help keep the sun out of your eyes, but they'll help you relax your entire body while you run, which will make for a less stressed (and therefore cooler) run. Tiphosi sunglasses are excellent for running or biking, vented and 100% UVA protection.
Depending on the distance and intensity of your workout, here are a few other things you might consider carrying along to help keep you cool:
A Nathan HPL #020 Running Vest will keep you Hydrated
A hat (Visors are best during the summer because they will allow heat to escape the top of your head.)
A belt for carrying fuel (if you're tackling a long distance)
Do you need to replenish Electrolites, Nutrition, Gu Energy Gel provides the right energy for  long run or long workouts.
And last but not least, sun screen. We can't emphasize enough the need for sun propection! (If your workout is longer than 40 minutes you will most likely need to reapply mid-run!)