Kevin & Jeanice Croy, Owners/Operators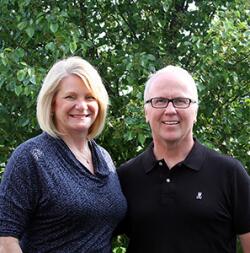 Kevin and Jeanice have been married for twenty–nine years and are proud parents of two wonderful children; Zachary, 26,  and Maggie, 21. Kevin was born and raised in Central Ohio, attended Berea College and graduated with a four year Business Management degree with an emphasis in Hotel Management. Jeanice was born and raised in the suburbs of Chicago, Illinois and attended the University of Kentucky and received a four year degree in Accounting.
For the past fourteen years, Jeanice and Kevin have resided in Fort Wayne, Indiana. Jeanice is president of a large local manufacturing firm called Tuthill Transfer Systems. Prior to opening Fleet Feet Sports Fort Wayne, Kevin had a successful 34 year career as a hotel general manager primarily with Marriott Hotels. Kevin discovered his passion for running, later in life, after arriving in Fort Wayne, Indiana. Since then Jeanice has also become an avid walker. Since taking up running, Kevin has ran several half and full marathons, his first being Chicago and his most memorable New York.  Recently Jeanice and Kevin have been able to share the fun, excitement, and social team building of running by participating in relay races such as Hood to Coast and Ragnar Relays.
Both Kevin and Jeanice are excited to bring Fleet Feet Sports to Fort Wayne, allowing them to have a healthier lifestyle in their lives and in their communities' lives.  We welcome every one of all abilities and backgrounds that have a passion for good health to visit Fleet Feet Sports Fort Wayne to fulfill their fitness needs.

Bridgette Burbrink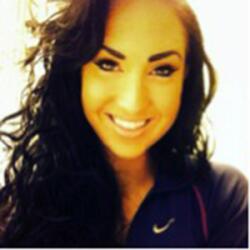 As a child Bridgette didn't think of herself as just a girl; she held her own with both boys and girls. She played all sports from a neighborhood soccer game to backyard hockey then later, Jr and Sr High School basketball to cross-country. Bridgette has never turned down a challenge.
She is currently taking pre-med classes to become a pediatric doctor, she has also taken schooling over personal training because she believes health and fitness is very important. She has three small children, Madeline age 4, and Briella and Brayden both 23 months. "They are my world," she states, and as a single mom she feels the most important gift one can give another is the gift of faith, so she and her children attend Sonrise Church in Fort Wayne Indiana. 
Hannah Hoffman
Hannah grew up here in Fort Wayne, IN and attended Concordia Lutheran High School. She was a four sport athlete and part of the cross country, track, diving, and gymnastics team (being a state champ in the floor exercise). After High School, she went up to Grand Rapids, MI where she attended Grand Valley State University. She continued her running career and ran cross-country and track for GV where she specialized in the steeplechase and mile. She acquired eight All-American Honors and was a member of the three-time winning NCAA National Cross Country Championship team. 
While at GV, she earned a degree in Clinical Exercise Science with a minor in Psychology. She was GV's track and field intern during her senior year where she helped oversee training philosophies and programs. She was also an assistant girls cross country coach at Jenison High School. Hannah 
married at the end of May 2015 so Hannah Osborn is now Hannah Hoffman. She is excited to be a part of the Fleet Feet team where she can
 inspire and help others who are looking to begin (or maintain) an active lifestyle.