Our Fleet Feet Running Club 5K Training will get you to the finish line!
All levels of walkers and runners are welcome. Our dedicated coaches will be there
with you every step of the way, regardless of your pace.
Join us for this 10 week program and we'll cross the finish line together, virtually or in-person!
FALL 2020 Fleet Feet Running Club
Training Groups will begin
TUESDAY, SEPTEMBER 22, 2020 at 6:00 PM!
Join us for a FREE Virtual Information Meeting about this upcoming 5k Session!

Registration is not necessary to attend this meeting.
TUESDAY, SEPTEMBER 15, 2020 at 6:30 PM
Link and Information about how to join the Virtual Info Meeting will be updated soon!
As part of Fleet Feet Running Club Fort Mill, 5k participants will receive the following:
A 10 week training program with calendars of workouts provided to you
A full WEEK of GEAR UP SAVINGS just for you!
Exclusive FFRC in-store discount throughout the entire season
Dedicated support and individual attention from your certified Coach and Mentors
2 Group training sessions per week- you can choose whether to meet in-person or virtually
Fleet Feet Running Club Fort Mill exclusive Technical shirt
Information clinics on topics such as heart rate training, injury prevention, nutrition, and more
Advice from local medical professionals
Accountability for your participation from your Coach and Mentors and Teammates
The camaraderie of others like you with the same goal
Social Distance Practices and Considerations
FAQ:
I am still skeptical about meeting with groups. Do I have any training options?
YES! You have the option to train with the same group coach and receive the same guidance, coaching, and education that our in-person training athletes will receive. You can choose to train at home.
When are the Group Training Sessions?
Every TUESDAY NIGHT, with staggered group start times, beginning at 6:00 / 6:15 / 6:30 pm
and
Every SATURDAY MORNING, with staggered group start times, beginning at 7:00 / 7:15 / 7:30 am
*Virtual Trainees will be expected to run their workouts on these days, as well.
When is the first Group Run?
TUESDAY, SEPTEMBER 22, 2020 @ 6:00 / 6:15 / 6:30 pm (staggered group start times)
When is Gear Up Week?
All registered athletes can join us in-store for a full week of savings to gear up on all the things you need for fall training the week of:
Saturday, September 19, 2020 - Saturday, September 26, 2020
Where do we meet?
All in-person practices will meet at Fleet Feet Fort Mill or in the nearby store area, unless otherwise announced. Virtual Athletes will complete their workouts/runs at home on the days prescribed.
When / Where is the end-of-season Goal Race?
During this unique time of COVID-19, many races have been cancelled or have become Virtual. This program is designed to get you ready to participate in any Thanksgiving Weekend virtual or in-person races for which you and your family and friends are planning on attending!
Another great option is to participate in-person in the 2020 PALMETTO PEACH HALF MARATHON 10K, and 5K RACES, in North Augusta, SC, hosted by our friends at Fleet Feet Augusta on Saturday, November 28, 2020 of Thanksgiving Weekend! This race runs through two states and is two times the fun!
Registration Fee: $75
Program Registration fee does not include goal race.
PLEASE NOTE: 5k group registration will be capped at 24 athletes for the Fall 2020 Session.
More Questions? Email Head Coach Amy Brown at: amy.brown@fleetfeet.com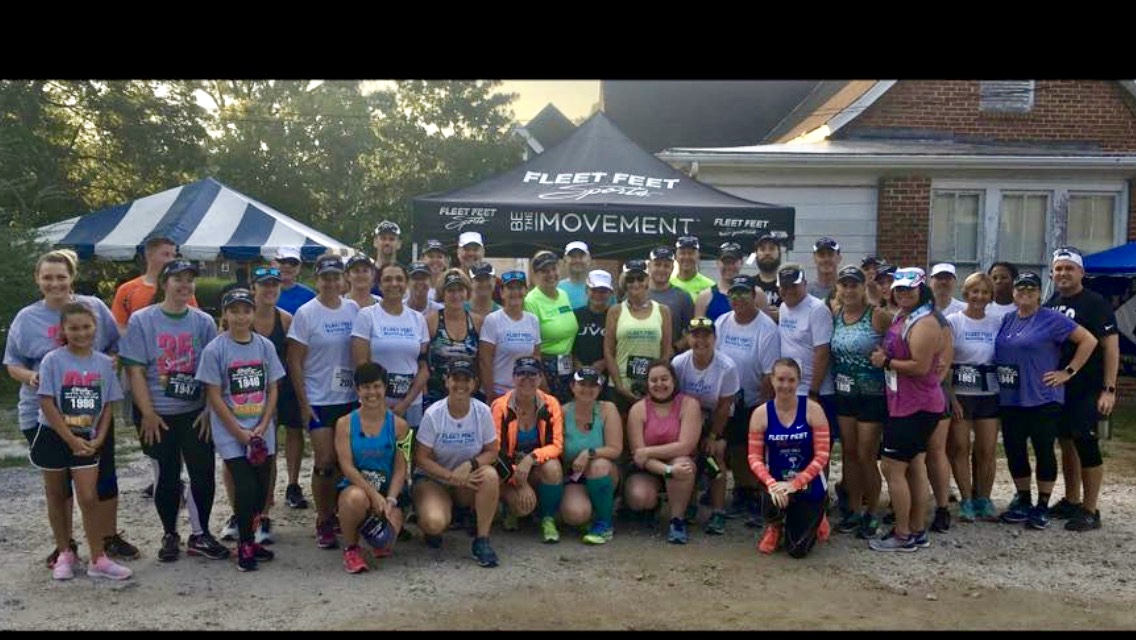 Join the Movement!

#TogetherWeMove #RunningIsNotCancelled #ShowUp #RunningChangesEverything #FFRC #FleetFeetTraining #FFFM
Program Start: Tuesday, September 22, 2020 @ 6:00 pm
Program Schedule: Tuesdays @ 6:00 pm (staggered start times) and Saturdays @ 7:00 am (staggered start times)
Program Fee: $75
Description: Our 5k Finish / 5k Fast Fleet Feet Running Club Fort Mill Training Program is open to runners/walkers of all abilities. Let us help you reach your first 5k or your fastest 5k! Certified Running Coaches lead each group with the help and support of experienced Mentors. Your training group will help keep you motivated and accountable. You've Got This!! Join us virtually or in-person today!