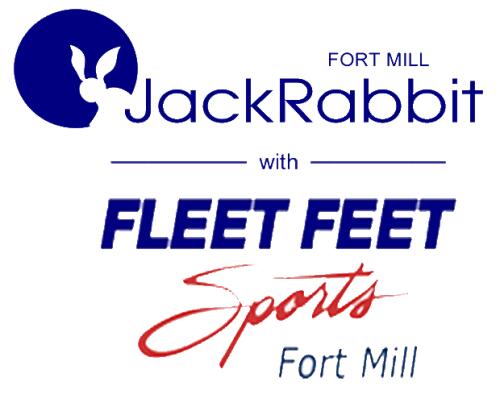 Fleet Feet Sports Fort Mill and Jack Rabbit Timing have joined together to offer organizations in northern South Carolina and southern North Carolina a convenient, comprehensible, and affordable package of resources for a successful sporting event. We would like to take this opportunity to offer our services for your road, trail, or cycling race.
Jack Rabbit Timing uses an advanced RFID chip timing system that is quickly being adopted by professional timers all around the world, and it was developed here in the South East.
Jack Rabbit Timing offers the following for an affordable price:
Creation of your online registration with a dedicated customized race page
A direct link ad on the homepage of jackrabbittiming.com
RFID chip timing with disposable chips and bibs
Bib and roster preparation for registered runners
Finish line services, including inflatable and scrolling, real time results on large screen television
Instant reporting capabilities for overall and age group awards
Email notification immediately following the event of individualized results
Fleet Feet Sports - Fort Mill is the heart of your area's running community and offers a welcoming environment for beginning and elite athletes.
The following services are free of charge:
Marketing of your event, including social media and email marketing
Safety advisory meeting with the race director
Packet pick-up the day before the event
Course marking and mileage signs (course monitors staffed and managed by race volunteers)
Water availability for the water stations on the course (water stops staffed and managed by race volunteers)
Timing Costs
We are committed to provide the best value chip timing provider on the market. Jack Rabbit Timing is owned by passionate runners and race directors that are well aware of the fees charged by some professional timing companies. We know that most races are small to medium sized events held for the benefit of worthy charities, so we created this company to help control the cost of professional chip timing.
For a traditional 5K/10K with one point of timing, the charge is $450, plus $2.60 per runner. For events longer than 10K, we add a $250 non-traditional set-up fee due to the increased time and staffing required. If you request additional points of timing, we charge an additional flat fee of $250 per timing point.
For non-chip timing, the cost is a flat fee of $400 for up to 100 participants. If the event is over 100 participants, an extra $1.00 per registrant is charged to ensure appropriate staffing of the race.
 If we can assist you in your event needs, or if you have any questions, please feel free to contact us.
Susannah Simpson
Jack Rabbit Timing
803.470.3840
jackrabbittiming@gmail.com
Catherine Foerster
Fleet Feet Sports Fort Mill
803 802-0800"
catherine@fleetfeetfortmill.com